14:33
We're moving to a new live blog now – follow all the latest on the US election here:

14:01
Donald Trump's reelection campaign has released another statement from the president, in which he calls for "full transparency" in the vote count.
"We believe the American people deserve to have full transparency into all vote counting and election certification, and that this is no longer about any single election. This is about the integrity of our entire election process," Trump said.
"From the beginning we have said that all legal ballots must be counted and all illegal ballots should not be counted, yet we have met resistance to this basic principle by Democrats at every turn. We will pursue this process through every aspect of the law to guarantee that the American people have confidence in our government. I will never give up fighting for you and our nation."
Okay, so there are a few fact-checks we need to make here. It is not true that Trump has consistently called for all legal ballots to be counted. He sent a tweet yesterday that said, "Stop the count!" The tweet made no distinction between legal and illegal ballots; it simply called on election officials to stop counting votes.
And every ballot that is being counted right now represents a valid vote. There has been absolutely no evidence election officials are trying to count invalid ballots. In the lawsuits it has filed in several battleground states, the Trump campaign has failed to produce any evidence that invalid ballots are being counted.
Election officials in multiple battleground states have also consistently defended the integrity of their counts.

13:41
Ex-Trump campaign manager close to book deal – report

Martin Pengelly
Former Trump campaign manager Brad Parscale is close to a deal to write a book, Bloomberg News is reporting, in perhaps the first instance of a Trump alumnus seeking to cash in on their experience after the 45th president has left the White House – presuming Joe Biden wins the election, as seems likely, and Trump agrees to leave.
Trump books have been big bestselling business ever since January 2018, when the Guardian broke news of Michael Wolff's Fire and Fury.
Bloomberg White House reporter Jennifer Jacobs got the Parscale scoop:
Jacobs added: "Some in Trump's inner circle are aware … and are concerned the ex-campaign manager could reveal damaging information about the president and his family."
Maggie Haberman, of the New York Times, said: "Among the reasons this is notable – Parscale is said to be one of the people who never signed a [non-disclosure agreement]."
Parscale was behind the data operation which helped upset Hillary Clinton in 2016. Promoted to lead the campaign in 2020, he famously bragged of having built a "Death Star" which would obliterate Biden.
It didn't, and Parscale lost his role as campaign manager shortly after a disastrous indoor rally in Tulsa, Oklahoma in June, which saw Trump embarrassed and which even preceded the death from the coronavirus of Herman Cain, a former candidate for the Republican nomination who like many supporters of the president attended the indoors event without wearing a mask.
At the time, Lincoln Project co-founder and former Republican consultant Rick Wilson told the Guardian: "Brad broke the first rule of American politics: under promise and over deliver."
In late September, amid continued questions about how funds raised for the re-election campaign had been spent as well as why Trump was lagging in the polls, Parscale was hospitalised in Florida after reportedly threatening to harm himself.
His wife, Candice Parscale, told police that she ran from their house, alarmed by her husband's behavior. When officers arrived, she said the couple had argued and he had pulled out a handgun and loaded it. Candice Parscale also said her husband had post-traumatic stress disorder and had become violent, showing police bruises on her arms. Police photographed the injuries, the Miami Herald reported.
Parscale subsequently stepped down from the Trump campaign entirely.

13:34
Today so far
Here's where the day stands so far:
Joe Biden appears poised to win the White House, after taking the lead in Pennsylvania. Biden now leads Donald Trump by 12,497 votes in Pennsylvania, but the AP has not yet declared a winner in the state. Biden is clearly intending to declare victory, with plans to deliver a primetime address tonight.
Georgia will hold a recount to settle the virtual tie between Biden and Trump in the state. As of now, Biden leads Trump by just 1,558 votes in the state, where about 5 million ballots were cast in the presidential race.
Biden's lead in Nevada grew to 20,137 votes, following an update from Clark county, where Las Vegas is located. But the AP has not yet called that state either.
The blog will have more coming up, so stay tuned.

13:23
Joe Gloria, the Clark County Registrar of Voters in Nevada, said the county would provide another ballot update this afternoon.
Clark county posted the results of about 30,000 ballots this morning, and Joe Biden's lead in the state has grown to 20,137 votes.
Gloria had said yesterday that the county would report the results of 51,000 ballots today, but he clarified that a staffer made an error because they incorrectly equated the number of ballots and the number of pages for the machine to process. (Some ballots had two pages.)
According to Gloria, there about 63,000 mail-in ballots and 60,000 provisional ballots left to be processed. The counting is expected to continue through the weekend, Gloria said.
Updated


13:15
Biden to deliver primetime address

Lauren Gambino
Joe Biden and Kamala Harris are expected to address the nation in a primetime speech this evening, a campaign official confirmed to The Guardian.
Biden is on the verge of victory after taking the lead in Pennsylvania, whose 20 electoral college votes would lift him above the 270-vote threshold to become the next president.
Both candidates are expected to speak.

13:07
It appears Donald Trump is now in the Oval Office, as a Marine is stationed outside the door.
The president has nothing on his public schedule today, but he has continued to tweet out baseless allegations of voter fraud, as Joe Biden looks poised to declare victory in the presidential race.
Trump has not been seen on camera since last night, when he held a White House press conference that was just a stream of lies about the election.
Updated


12:59
The Guardian's Nina Lakhani reports from Pennsylvania:
The arduous wait continues in Pennsylvania, where Joe Biden currently leads by 12,497 votes.
At a press conference a few minutes ago, Lisa Deely, chairwoman of the city commissioners overseeing the count in Philadelphia, said 40,000 votes are still to be counted there, including military and provisional ballots.
It could take several days to complete this reporting, as some of these ballots will need to be adjudicated. Biden has so far won 81% of votes in Philadelphia.
Another big batch of outstanding votes are in Alleghany county, home to PA's second biggest city Pittsburgh, where counting was suspended yesterday due to a legal challenge over 29,000 ballots. We're still waiting on 37,000 or so ballots to be counted there.
In short, Biden will almost certainly pull off a comfortable win in Pennsylvania with 40,000 to 100,000 votes depending on who's back of the envelope math you want to believe. But, the state may not be called for a few hours yet.
Speaking at a press conference, Philadelphia mayor Jim Kenney was asked for his response to Trump's baseless accusations of voter fraud in the city.
Kenney replied, "I think what the president needs to do is, frankly, put his big boy pants on. He needs to acknowledge the fact that he has lost, and he needs to congratulate the winner."
Updated


12:49
Philadelphia officials hold press conference on vote count
Philadelphia officials are holding a press conference, as the vote count continues in the city.
Philadelphia mayor Jim Kenney said, "While some including the president continue to spew baseless claims of fraud — claims for which his team has not produced one iota of evidence — what we see in Philadelphia is democracy, pure and simple."
The Philadelphia vote has already helped Joe Biden build a lead in Pennsylvania, and the remaining ballots are expected to bolster that lead.
Asked if he believed Biden would be elected president when all the ballots were counted, Kenney said, "Yes."

12:44
Johnson expresses confidence in 'checks and balances' of US government

Simon Murphy
UK prime minister Boris Johnson has refused to be drawn on the outcome of the US election, insisting "we should wait and see" while the votes are being counted.
Amid unfounded voter fraud claims by Donald Trump, Johnson also stressed he had every confidence in the checks and balances of the US constitution, as well as making clear he would work with whoever emerges as the winner in the contest.
Speaking on Friday as Joe Biden edged towards victory by taking the lead in the remaining key battleground states of Pennsylvania and Georgia, Johnson said: "If I were a voter in America I don't think I'd want anybody in another government commenting on my election, our election in our country, and I think while the votes are being counted … we should wait and see.
"And I have every confidence in the checks and balances of the American constitution."
Questioned on whether he would miss Trump – who has been supportive of Johnson – if he did exit the White House, Johnson said: "Let's be clear, the prime minister of the United Kingdom is always going to work very, very closely with whoever is … the president of the United States and that's going to be the case whatever the outcome of this election."

12:36
Mitt Romney criticized Donald Trump for peddling baseless accusations of voter fraud in the presidential election, as Joe Biden appears poised for victory.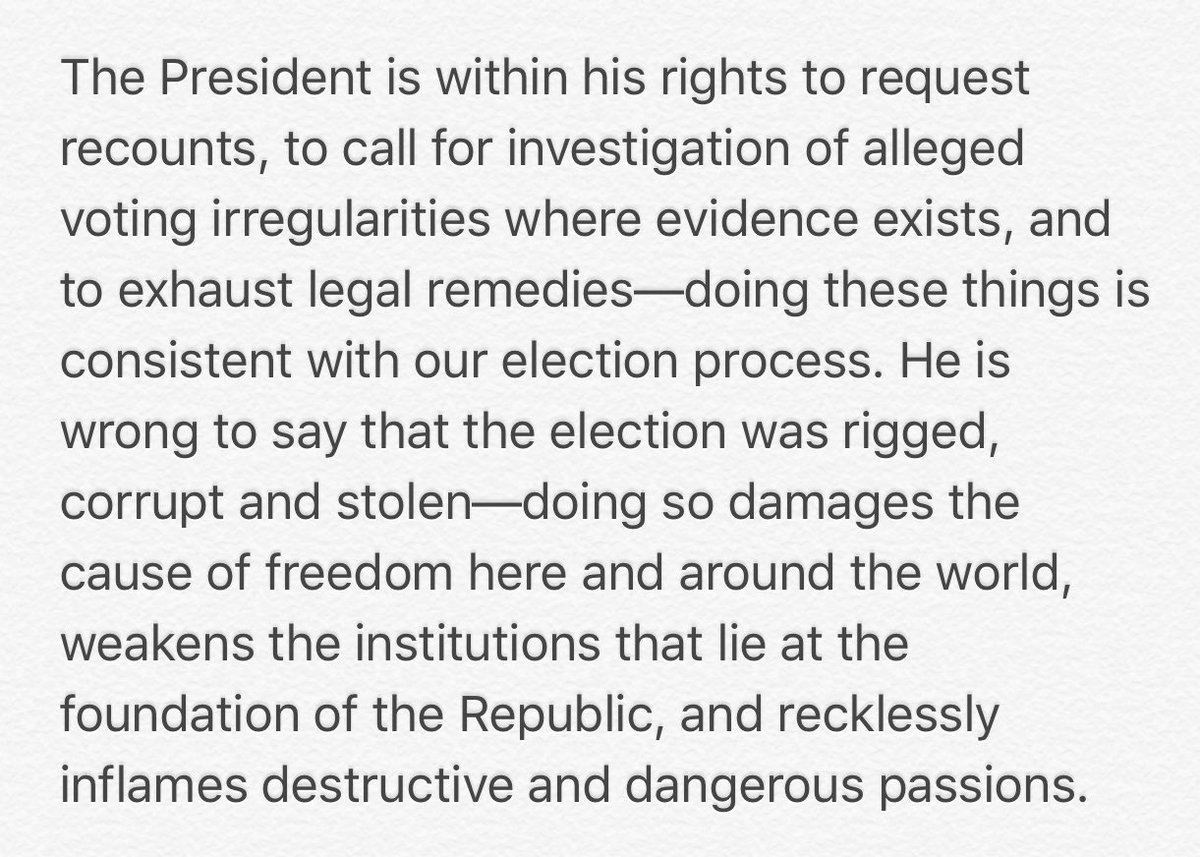 The Republican senator said the president is "within his rights" to request recounts in close states and call for investigations of specific alleged irregularities.
But Romney noted Trump was "wrong" to push baseless claims of a rigged election because "doing so damages the cause of freedom here and around the world."
Some of Romney's Republican colleagues have said Trump should produce evidence if he believes the election was tainted by fraud. The president's reelection campaign has produced no evidence to back up these claims.

12:25
To briefly turn away from the presidential race, the AP just announced Republican Jeff Van Drew won reelection to his House seat
Van Drew was originally elected as a Democrat in 2018, but he switched parties out of alleged outrage over the impeachment of Donald Trump.
The New Jersey congressman was viewed as very vulnerable because of his party-switching, and Democrats had high hopes of flipping his seat, but it didn't happen.
Freshman House Democrats in several vulnerable seats also lost reelection, so Republicans gained seats in the chamber, even though Democrats were expected to build upon their majority.

12:15

Julian Borger
Senator Roy Blunt, who is close to Mitch McConnell, signaled that many in the Republican leadership are reluctant to follow Donald Trump along the path to constitutional chaos if the president attempts to disrupt the peaceful transfer of power.
"You can't stop the count in one state and decide you want the count to continue in another state. That might be how you'd like to see the system work but that's not how the system works," Blunt said.
Blunt added, "Part of the obligation of leadership is you should always have in your mind how do I leave."
Reports have indicated Trump does not intend to concede if the presidential race is called for Joe Biden.
Asked about that possibility today, Biden spokesperson Andrew Bates said, "As we said on July 19th, the American people will decide this election. And the United States government is perfectly capable of escorting trespassers out of the White House."

12:02

Lauren Gambino
Mitch McConnell refused to answer reporters' questions about what he would do as the highest-ranking Republican in Congress if the president of the United States refused to concede the election.
"I'm not going to answer any hypotheticals about where we go from here," the Senate majority leader told reporters when asked what he would do. He declined several more times to answer the question and, referring to an earlier tweet, said that was the extent of his comments on the matter.
Donald Trump has made a series of startling and baseless claims about voter fraud and a rigged election, falsely asserting that he would have won the election already had it not been for a conspiracy involving "illegal" votes.
Senate Republicans have largely been cautious of endorsing – and some have even rebuked – Trump over his baseless claims of a rigged election.
But on Thursday night, Republican senators Lindsey Graham and Ted Cruz appeared on Fox to support a number of the president's evidence-free claims about voter fraud.
Asked by the host, Sean Hannity, if the Pennsylvania state legislature should nullify the delegates that voters select, Graham said, "Everything should be on the table."
Updated


11:53
With the latest batch of ballots from Pennsylvania, Joe Biden's lead decreased a bit — from 9,027 votes to 8,867 votes.
The overall trendline has been very favorable for Biden because the outstanding mail-in ballots in Pennsylvania are going to the Democratic nominee by a ratio of about 4:1.
But the AP has not yet made a call in Pennsylvania.

11:47
The AP has sent a tweet basically instructing everyone to chill out, as the nation awaits a call in the presidential race.
"The Associated Press continues to count votes in the presidential election and has not declared a winner," the AP said.
"When the AP does declare a winner, it will be tweeted from @AP and @AP_Politics."
As a reminder (which I don't think anyone needs), Joe Biden only needs to win one more state, and he will clinch the presidency.

11:39
Biden's leads in Pennsylvania and Nevada grow
Joe Biden's leads in Pennsylvania and Nevada have grown with the latest updates from the two states.
In Pennsylvania, Biden's lead now stands at 9,027 votes, which is expected to grow as more results come in from Philadelphia.
The Democratic nominee's lead in Nevada has also increased to 22,076, or 1.7% of the total.
The AP has not yet called Pennsylvania or Nevada, and we are still waiting on more uncounted ballots in both states.
But Jon Ralston, the widely respected editor of the Nevada Independent, believes the race there is all but over.