23:02
Summary
Here's a recap of today, from me and Joan E Greve:
Pfizer announced its coronavirus vaccine was shown to be 90% effective. US stock markets jumped after the Pfizer announcement was made, although it will likely take several months before a vaccine is widely available to the American public.
The US Food and Drug Administration authorized emergency use of Eli Lilly's experimental Covid-19 antibody treatment for some patients. Per the FDA, clinical trials found that the treatment, bamlanivimab, reduced the need for hospitalization or emergency room visits for older and high-risk Covid-19 patients.
President-elect Joe Biden announced the formation of his coronavirus advisory board. Speaking in Delaware today, Biden celebrated the Pfizer news but warned the coming months would still be very difficult for the country. "We're still facing a very dark winter," the president-elect said. "The challenge before us right now is still immense and growing."
Donald Trump fired the defense secretary, Mark Esper, by tweet. In recent months, the president and Esper had publicly clashed over proposals to rename military bases named after Confederate generals.
Mitch McConnell defended Trump's legal challenges in battleground states after being declared the loser in the presidential election. "President Trump is 100% within his rights to look into allegations of irregularities and weigh his legal options," the Senate majority leader said. It's important to remember that Trump's team has produced no evidence of election fraud.
Georgia's two Republican senators called on the state's Republican secretary of state to resign. "The Secretary of State has failed to deliver honest and transparent elections. He has failed the people of Georgia, and he should step down immediately," David Perdue and Kelly Loeffler said in a joint statement. Brad Raffensperger, the secretary of state, has fiercely defended the integrity of the Georgia vote count, and his office has provided multiple updates a day on the remaining number of ballots to be counted.
The Trump campaign filed another meritless lawsuit against Pennsylvania's secretary of state, reviving disproven claims that haven't held up in the courts so far. The lawsuit baselessly alleges that voters who mailed-in ballots were subject to less rigorous verification standards than those who voted in person. Like the president's other attempts to dispute his clear loss, it's unlikely to get him anywhere.
The attorney general also sent a memo to prosecutors, asking them to investigate election "irregularities" despite no evidence of irregularities. The move has little practical, legal implications, but it erodes norms and policies that typically prohibit the justice department from intervening before election results are confirmed by the electoral college, and it serves to sow confusion and distrust in the elections system.

21:39
Meanwhile, Joe Biden and Kamala Harris are planning to "hold briefings with transition advisors" tomorrow, per the team.
They will also deliver remarks in Wilmington, Delaware on the Trump administration lawsuit to overturn the Affordable Care Act, as well as their own healthcare plans.
Read more on Biden's plans for tackling the coronavirus crisis:

21:27
Once again, Donald Trump's schedule is clear.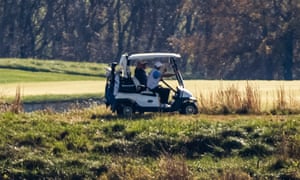 He has no public events planned for tomorrow. The last time he spoke publicly was Thursday when he delivered a lie-filled press conference that several TV networks cut away from after Trump illegitimately declared victory.
Updated


21:20
FDA authorized emergency use of Eli Lilly's experimental treatment for Covid

Helen Sullivan
The US Food and Drug Administration on Monday authorized emergency use of Eli Lilly and Co's experimental Covid-19 antibody treatment for non-hospitalized patients older than 65 or who have certain chronic medical conditions.
The FDA said its emergency use authorization (EUA) was based on clinical trials showing that the treatment, bamlanivimab, reduced the need for hospitalization or emergency room visits in Covid-19 patients at high risk of disease progression.
It can now be used for treating mild-to-moderate Covid-19 in adults and pediatric patients over the age of 12, the FDA said.
The antibody is not authorized for patients who are hospitalized due to Covid-19 or require oxygen therapy due to Covid-19. The FDA said the drug, which U.S. President Donald Trump has praised, had not been shown to benefit such patients and could worsen their clinical status.
A US government-sponsored study of the treatment in hospitalized Covid-19 patients was recently abandoned because the treatment was not shown to be helping.
Catch up on global coronavirus news:

20:56

Julian Borger
The US is expected to fly Cameroonian asylum seekers back to their home country on Tuesday despite fears that their lives will be at risk and reports that deportees repatriated last month are now missing.
Some of the deportees are activists from the country's anglophone minority, who face arrest warrants for their political activities from government forces with a well documented record of extrajudicial killings. They and their lawyers refer to Tuesday's flight as the "death plane".
Lawyers, human rights groups and Democratic senator Chris Van Hollen have appealed to the Department of Homeland Security (DHS) to halt deportation flights to Cameroon while political violence is still widespread there and while at least some of the detainees have cases pending or motions to reopen cases before the Board of Immigration Appeals.
They expressed concern that the deportations were being rushed to clear African asylum-seekers out of the country by the end of the Trump presidency, as part of a scorched earth policy in the administration's final weeks.
There are also allegations of systematic abuse by agents of the DHS's Immigration and Customs Enforcement (ICE), often to force the asylum seekers to sign their own deportation orders, and waive their right to pending immigration hearings. In one case, detainees were allegedly put under showers and then tasered by ICE agents, leaving some in need of hospital care.
The deportations are taking place despite a finding last year by the US government that the Cameroon government "engages in gross violations of internationally recognized human rights".
About 38 men and 10 women are scheduled to be on Tuesday's flight, 37 of them Cameroonian, but also six Angolan and three Congolese asylum seekers. In recent days they have been moved from prisons across the south to Prairieland Detention Centre in Alvarado, Texas, in preparation for a charter flight out of Fort Worth.
Read more:

20:42
Will Trump accept defeat and leave the White House? Yes, experts say
Alexandra Villarreal reports:
Donald Trump may never concede that he legitimately lost the 2020 election and the US presidency.
That in itself will probably not matter too much, but he may use his final months in office before Joe Biden takes office in January, 2021 to push the divisive politics that have become his calling card. He may even boycott Biden's inauguration ceremony.
But even if Trump and his colleagues sow a sloppy, chaotic and vindictive transition of power, it's still unfathomable that the one-term president would belligerently barricade himself inside the Oval Office and refuse to leave, says Lawrence Douglas, a professor of law, jurisprudence and social thought at Amherst College.
"I do not see that happening," says Douglas, whose book Will He Go? considers the aftermath of the 2020 election. "I think at some point, Donald Trump will submit to defeat."
After flirting with the idea of rejecting unfavorable election results for years, Trump has stoked fears of worst-case scenarios: civil war, a weaponized supreme court, and even the end to American democracy. With only 10% of Trump's supporters initially believing Biden won the presidential contest, many Americans are also concerned about an outburst of violence, even as the rancorous commander-in-chief paints a baseless picture of rigged, fraudulent results.
"I had such a big lead in all of these states late into election night, only to see the leads miraculously disappear as the days went by. Perhaps these leads will return as our legal proceedings move forward!" Trump tweeted on Friday.
In a last-ditch effort for Republicans to hold onto the executive branch, Trump and his allies have already begun filing a firestorm of lawsuits around the election. But they've made little headway thus far.
"If the number of contested ballots are not greater than the margin, courts are not eager to tear open an election," although judicial scrutiny could actually address a "lingering cloud of illegitimacy" around the vote counts, said Jonathan Turley, a professor at George Washington University Law School.
Read more:
Updated


20:22
Vanita Gupta, a civil rights attorney who served in the Justice Department during the Obama administration, called the attorney general's memo a "scare tactic":

20:04
In September, when the justice department publicized an investigation into whether nine mail-in ballots in Pennsylvania – including seven marked for Donald Trump – were allegedly "discarded", elections experts warned that William Barr was using his department to provide fodder for the president's baseless claims of fraud.
The justice department had a longstanding policy against interfering in elections, and an earlier memo from Barr himself – obtained by ProPublica – directed department employees to be "particularly sensitive to safeguarding the Department's reputation for fairness, neutrality, and non-partisanship" when it came to the elections.
Updated


19:51
It's unclear that the attorney general's memo will have any practical implications.
After all, there is zero evidence of widespread voter fraud – so it's unlikely US attorneys will find anything credible to prosecute. Ellen Weintraub, the Federal Election Commissioner, told CNN on Saturday that "there really has been no evidence of fraud" in this election. "Very few substantiated complaints, let me put it that way. There is no evidence of any kind of voter fraud," she said. "There is no evidence of illegal votes being cast."
But in Barr's memo, the attorney general tells prosecutors that, "although the States have the primary responsibility to conduct and supervise elections under our constitution and the laws enacted by Congress, the United States Department of Justice has an obligation to ensure that federal elections are conducted in such a way that the American people can have full confidence in their electoral process and their government".
"Given this, and given that voting in our current elections has now concluded, I authorize you to pursue substantial allegations of voting and vote tabulation irregularities prior to the certification of elections in your jurisdictions in certain cases," he continues.
The memo primarily functions to erode norms and policies that typically prohibit the justice department from intervening before election results are confirmed by the electoral college, and it serves to sow confusion and distrust in the elections system.
Updated


19:29
Another Trump press conference on unsubstantiated voter fraud allegations

David Smith
A hastily called Trump campaign press conference on Capitol Hill in Washington today recycled unproven claims of voter fraud but offered no specific proof.
"Do you know that fraudulent votes were actually cast?" a reported asked. "Or are you simply saying we don't know because we couldn't see it?"
Kayleigh McEnany, the White House press secretary, could offer only: "What we are asking for here is patience."
Journalists crammed into the lobby of the Republican National Committee headquarters after taking temperature checks and heard first from McEnany, who has recently been blurring the line between federal government activity and political campaigning.
"This election is not over – far from it," declared Trump's spokesperson, who at her first White House briefing promised never to lie from the podium.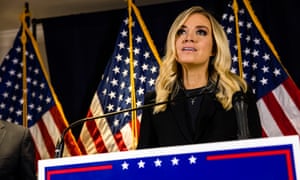 Without evidence, McEnany said: "There is only one party in America trying to keep observers out of the count room. And that party, my friends, is the Democrat party. You take these positions because you are welcoming fraud and you are welcoming illegal voting."
As she went on to claim that Republicans want "maximum sunlight" and "maximum transparency", the baseless charge prompted the conservative Fox News network to cut away from briefing. Host Neil Cavuto said: "Whoa, whoa, whoa… Unless she has more details to back that up, I can't in good countenance continue showing this."
Meanwhile Ronna McDaniel, chair of the Republican National Committee, claimed the party had "thousands of reports of poll watchers being intimidated" in Michigan and highlighted a "whistleblower" allegation in Detroit about ballots being nefariously backdated. This has been debunked by fact checkers.
Biden leads by more than 4m votes but McDaniel urged: "If it were this close the other way, if Trump was in the lead in all these states, the media'd be screaming, 'This isn't over … We need more time to count and make sure it's right.'"
Challenged as to how there could be a conspiracy in "red counties" when in fact Republicans picked up House seats and performed well in the Senate, McDaniel failed to answer. And as McEnany left, a reporter shouted, "Is the president being a sore loser?" Again there was silence.
Updated


19:20
House speaker Nancy Pelosi condemned the president's sacking of defense secretary Mark Esper:
"The abrupt firing of Secretary Esper is disturbing evidence that President Trump is intent on using his final days in office to sow chaos in our American Democracy and around the world," she said in a statement. "Continuity and stability are always important during a presidential transition; they are absolutely imperative at this moment, as this historically erratic Administration prepares for its departure."
After Trump fired Esper via a tweet, several Democrats have said the move would leave the US vulnerable. House armed services committee chair Adam Smith, a Democrat of Washington state, said the dismissal "is a destabilizing move that will only embolden our adversaries".
"President Trump's decision to fire Secretary Esper out of spite is not just childish, it's also reckless," he said.
Updated


19:13
Barr tells prosecutors to pursue claims of irregularities despite lack of evidence
William Barr, the US attorney general, has told prosecutors across the country to pursue "clear and apparently-credible allegations of irregularities" in the voting system, despite a lack of evidence that such fraud is occurring.
In a memo obtained by the Associated Press, Barr – who has not shied away from violating norms in his efforts to prop up Donald Trump – told attorneys that investigations "may be conducted if there are clear and apparently-credible allegations of irregularities that, if true, could potentially impact the outcome of a federal election in an individual State", the AP reports.
States have another month to resolve election disputes before members of the electoral college finalize the outcome on 14 December.
Updated


19:01
Cheri Bustos, House Democratic campaign chief, said today that she will not seek re-election to that position in the wake of the string of losses House Democrats faced during the election last week.
Republicans gained five seats in the House last week. Though Democrats still hold the majority with 215 seats, their influence in the chamber will likely be weakened over the next two years. Bustos herself had a closer-than-expected race against her Republican opponent for her Illinois House district seat. The results were a sting to Democrats after they gained their majority in the House in 2018.
Battleground Democrats have argued that Bustos' team did little to defend them from Republican attacks and that her most aggressive strategies were used in districts in states like Texas and Arkansas that were harder to win, according to Politico.
In a statement, Bustos said that she will be focusing her work "on exciting legislative possibilities" and that she is "well-positioned to turn my focus to strengthening infrastructure and health care in the cities, small towns and rural areas I serve".
Full statement from DCCC Chairwoman Cheri Bustos on not seeking 2nd term as head of House Dem campaign arm. "I took on the challenge of leading the DCCC with the goal of protecting our Democratic House Majority, so we'd be in position to work with a new Democratic President…" pic.twitter.com/Pc37hlrm6z

— Kirk A. Bado (@kirk_bado) November 9, 2020
I'm signing off for now and will be handing the blog over to my Guardian colleague Maanvi Singh. Stay tuned for more live updates.
Updated


18:44
White House press secretary Kayleigh McEnany spoke at a Republican National Committee press conference earlier this evening, repeating Donald Trump's refusal to accept Joe Biden as the winner of the presidential election and making false claims about voter fraud.
McEnany said that she is at the press conference, which is a campaign event as opposed to a White House event, in her "personal capacity".
Fox News apparently cut away from the press conference saying that they could not air McEnany's false claims in good conscience.
"Whoa, whoa, whoa – I just think we have to be very clear. She's charging the other side as welcoming fraud and welcoming illegal voting. Unless she has more details to back that up, I can't in good countenance show you this," Fox News host Neil Cavuto told viewers as McEnany continued to talk.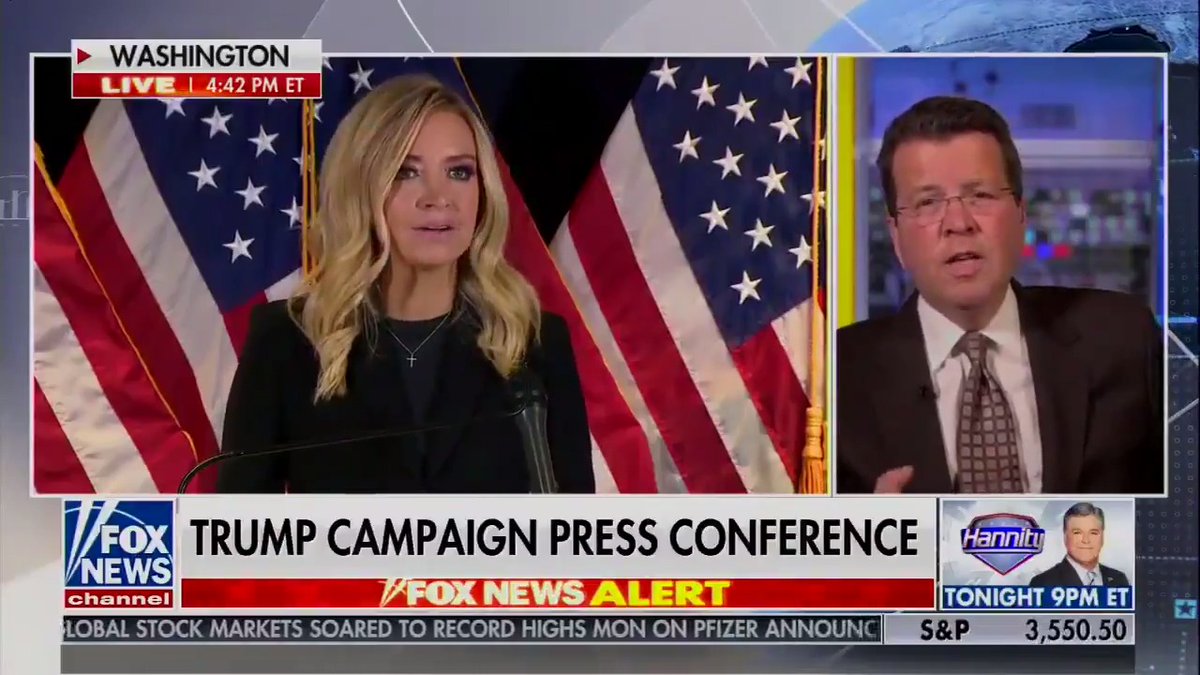 Updated


18:28
Lawyers that have been working to reunite children who were separated from their families at the border say that the number of children still separated from their parents is higher than previously reported. According to an NBC News story, the lawyers say they still have not been able to find the parents of 666 children.
The children were separated from their parents between April and June 2018, when Donald Trump had his "zero tolerance" policy at the US-Mexico border.
Here's more from NBC News:



Lawyers working to reunite migrant families separated by the Trump administration before and during its "zero tolerance" policy at the border now believe the number of separated children for whom they have not been able to find parents is 666, higher than they told a federal judge last month, according to an email obtained by NBC News.

Nearly 20 percent of those children were under 5 at the time of the separation, according to a source familiar with the data.

In the email, Steven Herzog, the attorney leading efforts to reunite the families, explains that the number is higher because the new group includes those "for whom the government did not provide any phone number." Previously, the lawyers said they could not find the parents of 545 children after they had tried to make contact but had been unsuccessful.
Updated


18:09
The Guardian's voting rights reporter Sam Levine:
Donald Trump's campaign filed another longshot lawsuit in Pennsylvania on Monday, rehashing many of the already disproven claims that haven't succeeded so far in both federal and state courts.
Trump has refused to concede the election and instead has backed a number of legally meritless lawsuits aimed at casting doubt on the legitimacy of the election.
The theory of the new case, filed in federal court, is that voters were treated different depending on whether they voted by mail or in person. The campaign says that while in-person voters had to go through numerous steps to ensure the integrity of the election, those were lacking among those who voted by mail.
But the campaign, again, offered no new hard evidence. It claimed that ballots were counted in Philadelphia and Allegheny county, Democratic strongholds, without observers present, a claim that has already been repeatedly debunked. The campaign also again took issue with the fact that election officials in some places reportedly contacted voters before who had technical deficiencies with their absentee ballots to correct them ahead of election day. Other judges in the state have looked skeptically at similar claims.
The Trump campaign is requesting an order blocking the state from certifying the election results and from tallying ballots counted that weren't properly observed. The campaign also wants to block the state from tallying the ballots where voters were given a chance to fix the deficiencies.
Updated