21:43
Summary
New coronavirus cases continue to surge in dozens of US states. According to the Johns Hopkins University tracker, the US recorded 71,671 new coronavirus cases yesterday, marking the highest single-day total since late July.
More than 52 million Americans have already cast their ballots, according to the US Elections Project, putting the country on track for the highest turnout of any election since 1908.
Dr Anthony Fauci said Trump has not attended a White House coronavirus task force meeting in "several months". The infectious disease expert also noted the task force's meetings have become much less frequent, even as cases surge across the country.
Joe Biden laid out his proposed response to the coronavirus pandemic in a speech this afternoon. "I'm not going to shut down the country. I'm not going to shut down the economy. I'm going to shut down the virus," Biden said in Wilmington, Delaware. The Democratic nominee sharply criticized Trump's response to the pandemic, accusing the president of having "quit on America".
The White House announced Israel and Sudan had agreed to normalize relations. The announcement comes a month after Israel signed deals with the United Arab Emirates and Bahrain to normalize relations. "There are many, many more coming," Trump said of the announcement. "This is one where there's no blood in the sand.
Follow the Guardian's global coronavirus updates:
Updated


21:37
Experts say that despite the snafus, the election is working without too many hiccups for most Americans.
Clara McMichael reports:
"There are no more problems now than we would expect to see in a major presidential election, with record high turnout, record enthusiasm to participate and oh, by the way, in the middle of a pandemic," said David Becker, executive director of the Center for Election Innovation and Research. "So it's remarkable that things have been going as relatively well as they have."
Even so, many Americans are going to great lengths to vote in person. Mesha Winford, a cybersecurity analyst working in Virginia, said she will drive three and a half hours to vote in North Carolina. And voting is not the only thing she's looking forward to – she's been waiting to go to her favorite restaurant – she tweeted that she dreamt she was back home, eating "bbq, cole slaw, hush puppies, fried chicken gizzards and homemade lemonade".
Winford will also see her 85-year-old father, who she last visited in March, afraid she could unwittingly expose him to Covid-19. Now she has a plan: she'll take a Covid test first, and when she arrives, they'll plan to see each other at a distance outside his house, or meet briefly at the polling station.
"It's especially important to him," Winford said. "Coming from that era, he couldn't always vote in the African American demographic." She added that "people's lives depend on this election".
Jenn Fralick, a traveling registered nurse based in Laredo, Texas, knows that firsthand. Fralick works in her hospital's Covid-19 unit and during her overnight shift, she signs her name often, using a shorthand scribble to fill out forms. Although Fralick has worked since September along the border, she lives and votes in Jacksonville, Florida, a key battleground state this election.
The nurse said she uses three signature variations – sometimes spelling out her first name or sometimes just using her initials – and she doesn't remember which version she used on her ballot. She's heard that in some states, if the voter's signatures don't match, they'll reject the ballot. She's also concerned about postal service delays.
She requested an absentee ballot, but if it doesn't arrive, she'll fly home to vote.
"I'm watching people die, literally. I'm not only voting for myself, I'm voting for them," Fralick said. "Those 220,000 lives that are gone and can't vote."

20:43
The CEOs of Twitter and Facebook will testify before the Senate judiciary committee on 17 November, the committee announced.
Twitter's Jack Dorsey and Facebook's Mark Zuckerberg will answer questions from the Republican-led committee on the "platforms' censorship and suppression of New York Post articles" among other things. Trump and Republicans have been outraged by the platforms' decision to limit the distribution of the Post articles, which alleged that a dubiously acquired laptop the outlet said belonged to Hunter Biden – Joe Biden's son – contained documents that implicated the family in corruption. Multiple news outlets have failed to substantiate the allegations.
Republican senators initially threatened to subpoena the CEOs. With Democrats boycotting the hearing, Republicans voted to subpoena if the CEOs didn't voluntarily agree to speak before the committee.
Updated


20:10
The United States on Friday was approaching a record for the number of new daily coronavirus cases, as a new study warned that the pandemic is set to cause half a million American deaths by February.
From Oliver Milman in New York and Joan E Greve in Washington and agencies:
Covid-19 is on course to ravage states across the nation throughout the coming winter and more than 511,000 lives could be lost by 28 February next year, modeling led by scientists from the University of Washington found.
This means that with cases surging in many states, particularly the upper midwest, what appears to be a third major peak of coronavirus infections in the US could lead to nearly 300,000 people dying in just the next four months.
In the latest ominous sign about the disease's grip, the US recorded 71,671 new cases of coronavirus on Thursday, the Associated Press reported, while the seven-day rolling average for cases surpassed 61,140, compared with 44,647 two weeks ago.
The record was reached on 22 July when the rolling average was 67,293 in the midst of a summer outbreak driven largely by surges of the virus in Florida, Texas, Arizona and California, the agency reported.
Meanwhile, the Washington Post reported that according to its own data tracker, the US hit an all-time daily high for new cases on Friday, with a total of more than 81,000.
Several states are setting records across the midwest and west for infections and hospitalizations, amid the autumn surge.

19:30
The Republican National Committee has tweeted a list of ways in which Donald Trump is "fighting for YOU!". His second term priorities include establishing a permanent manned presence on the moon and sending the first manned mission to Mars.
Not on the list: ending the coronavirus pandemic.
The backlash was swift – and dark, and darkly funny:

18:57
'Boogaloo Boi' charged in fire of Minneapolis police precinct during George Floyd protest

Lois Beckett
A rightwing extremist boasted of driving from Texas to Minneapolis to help set fire to a police precinct during the George Floyd protests, federal prosecutors said.
US attorney Erica MacDonald said on Friday that she has charged Ivan Harrison Hunter, a 26-year-old Texas resident, with traveling across state lines to participate in a riot. The charges are the latest example of far-right extremists attempting to use violence to escalate national protests against police brutality into an uprising against the government, and even full civil war.
The case also reveals the extent of the coordination between violent members of the nascent far-right "Boogaloo Bois" movement operating in different cities across the country.
According to the complaint, Hunter sent multiple private messages on Facebook bragging of his actions in Minneapolis on the night of 28 May and morning of 29 May, writing, "I set fire to that precinct with the Black community," and, "My mom would call the FBI if she knew."
Video shot that night shows a person later identified as Hunter firing 13 rounds from a semiautomatic assault-style rifle on the 3rd precinct police station while people believed to be looters were inside. He then high-fived another person and shouted, "Justice for Floyd!" according to the complaint.
Later, he privately messaged Steven Carrillo, another alleged "Boogaloo Boi" in California, urging him to "go for police buildings", according to the federal criminal complaint.
"I did better, lol," Carrillo allegedly replied.
Hours before Carrillo sent that message, according to the complaint, federal prosecutors say Carrillo had driven to Oakland with an accomplice, and, as protesters were demonstrating blocks away, shot two officers guarding a federal courthouse in downtown Oakland, killing one, David Patrick Underwood.

18:44
Lou Dobbs, a Fox News anchor and Donald Trump loyalist, launched into a tirade against Lindsay Graham, the Republican of South Carolina who is fighting the toughest reelection race of his Senate career.
"I don't know why anyone in the great state of South Carolina would ever vote for Lindsay Graham," Dobbs said. Many voters in the state have been put off by Graham's hypocrisy in rushing to appoint Trump supreme court nominee – after refusing to even consider Obama's nominee. Moderates have also recoiled at Graham's transformation from a centrist who fashioned himself as someone who could cut through partisan politics, to a Trumpian who has uncritically backed the president.
Dobbs has a different gripe: that Graham has yet to "get to the bottom of Obamagate" – a baseless conspiracy theory that Barack Obama plotted to bring down his successor. Graham has "betrayed President Trump at almost every turn" by not investigating the unsubstantiated allegations, Dobbs said. "Senator Graham needs to be tuned out in South Carolina."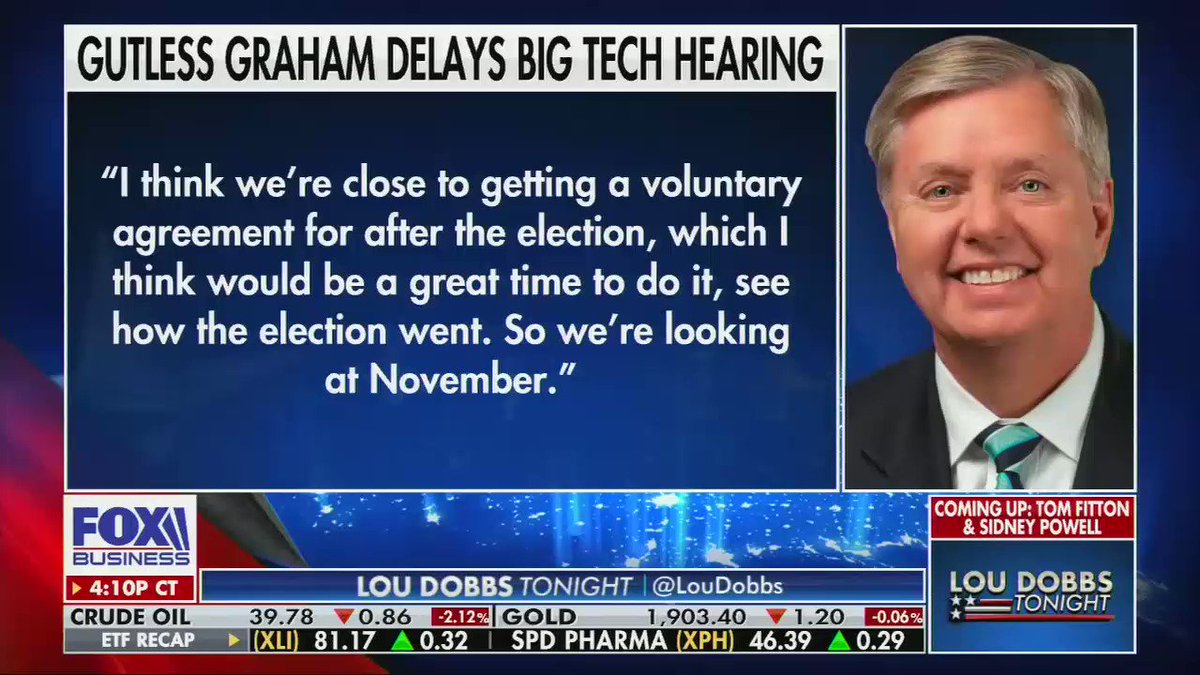 Updated


18:20
Speaking about Kamala Harris, Donald Trump told supporters "we're not going to have a socialist … especially a female socialist" in the White House.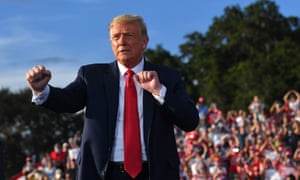 Trump, who is losing support from women, earlier at the rally begged, "Please, please, suburban woman, you should love me." He did note that he was "kidding".
On Harris, he said: "We're not going to have a socialist president, especially a female socialist president, we're not gonna have it, we're not gonna put up with it."
Updated


17:51
Why Covid-19 is battering Black Chicagoans
Most of the city's deaths are hyper-concentrated in majority-Black neighborhoods.
Gloria Oladipo reports:
Phillip Thomas, a Black, 48-year-old Chicagoan, was a "great guy" according to his sister Angela McMiller. He was loved by his family and well-liked by his co-workers at Walmart, where he had worked for nine years.
"I didn't know about how many friends he had until he passed away," said Angela. Thomas, who was diabetic, died from Covid-19 this past March.
After being sick for two weeks and self-quarantining at the recommendation of his doctor, instead of being given an examination, Phillip was then rushed to the hospital, where he died the next day.
Naba'a Muhammad, 59, a writer and Chicago South Shore neighborhood resident, with a lung disease, also contracted coronavirus and was hospitalized.
But while he was fortunate to access the necessary care, he immediately noted health disparities facing other Black Chicagoans in his community.
"Here you have [Donald Trump] who's got a helicopter flying him to a special wing of a hospital for help when Black people can't even get an Uber to the emergency room or a Covid test," he said, referring to the president's world-class care at the Walter Reed national military medical center on the outskirts of Washington DC, after being diagnosed with coronavirus in early October.
In Chicago, Covid-19 is battering Black communities. Despite only accounting for 30% of the city's population, Black people make up 60% of Covid cases there and have the highest mortality rate out of any racial or ethnic group.
Most Chicago Covid-19 deaths are hyper-concentrated in majority-Black neighborhoods such as Austin on the West Side and Englewood and Auburn Gresham on the South Side.
"The racial and ethnic gaps we're seeing of who gets the virus and who dies from it are not a surprise," said Linda Rae Murray, a Chicago doctor, academic, social justice advocate and former president of the American Public Health Association as well as the former chief medical officer of the Cook county department of public health.
"They are a reflection of structural racism that exists in our society and inequities that are baked into our country."

17:36
In Florida, Donald Trump told supporters he'll do "five or six" rallies a day ahead of the election.
Lagging in national polls, the president has been keeping a busy schedule of rallies already. It's unclear what effect this will have on voters, many of whom have already cast their ballots.
When Trump asked the crowd how many had voted "nearly ever hand" went up, reported NBC's Shannon Pettypiece, who was at the event.

17:17
Wisconsin sees record number of early voters as Covid cases climb in state
Mario Koran reports:
Wisconsin, a state notoriously divided by politics, bucked national trends in April when it pressed forward with in-person midterm elections during the pandemic, despite objections of the Democratic governor, Tony Evers. Faced with a sudden exodus of volunteer poll workers, Milwaukee consolidated 180 polling locations in five, resulting in hours-long wait times.
Having had six months to prepare for fall elections – stocking up on PPE, creating plans for cleaning, and finding enough volunteers to work the polls – experts and election officials expect a smoother process on 3 November. But the wave of coronavirus outbreaks that first walloped the nation's coastal areas has now crashed on the midwest. Wisconsin cities made up seven out of 10 areas with the highest share of Covid cases relative to their populations, according to a New York Times analysis.
This week, when early voting stations opened for residents to submit absentee ballots in person, officials put their preparations to the test. According to the Wisconsin election commission, 1.1 million people had returned their ballots by mail or in person as of Thursday – a record number of early votes for the state. (Wisconsin calls in-person early voting ballots absentee.)
By 6.30am Tuesday, when an early voting location opened at Bay View library in Milwaukee, the parking had filled with cars and a line snaked around the corner of the building. It moved swiftly, and spirits seemed high, with cheers and fist-pumps from voters who left the library happy to have submitted their ballots in person.
"I didn't want to wait in line on election day," said Stephen Gribble, 46. "Without getting too political, I wanted to make sure I did my part to get a certain someone out of office. And I wanted to come in person to make sure it was done right."