20:28
Today so far
Signing off for the night. Here's what happened on Friday evening:
Donald Trump's team was in talks to trade a 40% stake of the social media company Parler for the former president's exclusive use of the platform. BuzzFeed News broke the story of the unfinished deal, which could still land Trump and Parler in legal hot water.
Kyle Rittenhouse could be rearrested after violating the terms of his bail – which included the payment of a $2m cash bond.
Capital insurrectionist Jenny Cudd is heading to Mexico after a federal judge granted permission for the pre-planned vacation.
Senate Democrats have introduced a bill to reign in big tech's power and hold platforms accountable for some content shared on their sites
Lou Dobbs Tonight has been canceled by Fox Business following the host's spread of election misinformation even though it remains the most watched show on the network.
Have a good night!
Updated


20:14
In an interview with CBS Evening News on Friday night, President Joe Biden told anchor Norah O'Donnell that he doesn't think Trump should be given access to intelligence briefings, citing his predecessor's "erratic behavior", and the possibility that he'd share secret information.
Typically, presidents are able to continue to receive some intelligence briefings even after they leave office. But Trump, who is facing his second impeachment trial next week, may be barred from them, Reuters reports:



"The Republican is facing his second impeachment trial next week, this time charged with sparking an insurrection at the Capitol by calling on people to "fight" the results of the Nov. 3 election that he lost. Biden said his view that Trump should not receive the briefings was not connected to the Capitol riots.
Updated


20:11
Lou Dobbs show has been canceled by Fox News Business
Friday evening marks the final airing of Lou Dobbs Tonight, the Fox Business show hosted by the ardent supporter of former president Trump with a history of espousing misinformation and racist rhetoric. He was a major contributor to the false narrative that the election was stolen, and even continued espousing those views on his program after admitting that they lacked actual proof.
"Eight weeks from the election and we still don't have verifiable, tangible support for the crimes that everyone knows were committed," he said on air in January.
Dobbs, 75, has hosted the program since 2011, which was considered must-see TV by Trump, who even reportedly patched the host through during key policy meetings. He is still considered the highest-rated host on the Fox Business Network, and has remained under contract even though he's not expected to reappear on a new show. His show's slot, which airs twice on weeknights, will now be filled with a show called Fox Business Tonight, which will feature hosts Jackie DeAngelis and David Asman.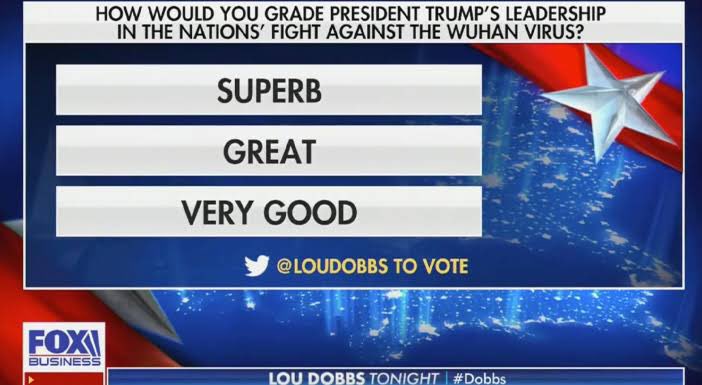 Though the network has yet to give much detail on the cancellation, the move followed a lawsuit against Dobbs, the Fox Corporation, the Fox News Channel, and two other network anchors for the misinformation spread during the election. Dobbs, and other Fox News anchors, repeated unfounded claims of election fraud and told viewers the election tech company Smartmatic was involved in a scheme to hand the presidency to Joe Biden.
Citing the fabricated reporting on Dobbs' show and others, Smartmatic sued to the tune of $2.7 bn. The 285-page lawsuit, filed in New York state supreme court, claims the network launched a "disinformation campaign" against the company, whose voting machines were only used in Los Angeles county. Trump's former lawyers, Rudy Giuliani and Sidney Powell, who appeared as guests on the network, were also named in the defamation suit.
But several people familiar with the decision told the Los Angeles Times, which first reported the sudden cancellation, that Dobbs' show was going to be axed before Smartmatic filed its suit. Changes were made to the lineup after Biden was elected, to promote more balanced commentary on the conservative network.
"The decision on Dobbs – whose views are often incendiary – indicates that Fox News is considering the proper balance of commentary and news to satisfy conservative viewers, who turn to it as an alternative to so-called mainstream media outlets, while not alienating less ideological voters who make up a significant part of its audience," the LA Times reports.
Updated


19:27
A federal minimum wage hike to $15 per hour may not make it into the new Covid relief plan, President Biden said Friday evening in an interview with CBS Evening News.
The pay increase had been a key part of Biden's plan and proponents were hopeful it would pass with the $1.9tn relief package.
The Associated Press reports that pressure from a new job report, released Friday morning, may be to blame. Hiring stalled in January, the report showed, and full employment may not be achievable for years.
"I put it in, but I don't think it's going to survive," Biden said in an interview with CBS Evening News. Biden added that he'd advocate for the wage increase in a separate bill. "No one should work 40 hours a week and live below the poverty wage. And if you're making less than $15 an hour, you're living below the poverty wage."
Senator Bernie Sanders clearly doesn't agree:
Updated


19:12
New bill would hold platforms accountable for content
Kari Paul
A new bill introduced by Senate Democrats on Friday will seek to rein in big tech's power by holding platforms accountable for some content hosted on their sites.
The measure, introduced by senators Mark Warner of Virginia, Mazie Hirono of Hawaii and Amy Klobuchar of Minnesota, would reform Section 230 of the Communications Decency Act, a 1996 law that currently shields companies from legal liability for what is posted on their platforms.
The once-obscure legislation has been in the spotlight in the past year as both parties attack big tech companies for how they moderates platforms. Republicans accuse tech companies, without evidence, of censoring them while Democrats say the companies do not do enough to address hate speech and misinformation. Warner said in a statement Friday the bill would grant victims of cyber crime and online harassment more legal recourse without infringing on first amendment rights.

"Section 230 has provided a 'get out of jail free' card to the largest platform companies even as their sites are used by scam artists, harassers and violent extremists to cause damage and injury," Warner said in a statement Friday. "This bill doesn't interfere with free speech — it's about allowing these platforms to finally be held accountable for harmful, often criminal behavior enabled by their platforms to which they have turned a blind eye for too long."

The bill has drawn support from groups like the the NAACP Legal Defense and Educational Fund and the Anti-Defamation League, but some progressive organizations are already sounding alarm bells. Progressive digital rights group Fight for the Future released a statement against it on Friday saying it would "gut" section 230 protections and benefit larger corporations more able to comply with strict laws.
"We absolutely agree that Congress needs to take meaningful action to address the real world harm being done by Big Tech companies' surveillance capitalist business models," said Evan Greer, director of Fight for the Future.

"But unfortunately this bill, as written, would have enormous unintended consequences for human rights and freedom of expression."
Updated


19:02
A letter signed by 144 First Amendment lawyers, distributed Friday afternoon, tore into a key part of the Trump team's planned defense in his upcoming Senate impeachment trial, the New York Times reports.
"We all agree that the First Amendment does not prevent the Senate from convicting President Trump and disqualifying him from holding future office", the group wrote, calling any use of the argument by the former President's attorneys "legally frivolous".
In a written filing, Trump's lawyers indicated they would rely heavily on the claim that the former president's right to free speech and thought were violated by the US House's "incitement of insurrection" charge.
The New York Times reports:



The letter emerged as Mr. Trump's legal team, which was hastily pulled together in recent days after he dismissed his original impeachment lawyers, worked feverishly on Friday to get up to speed on the case and prepare for the trial.

Mr. Schoen said that he and Mr. Castor had yet to learn anything about how the trial would operate — including its schedule, how much time the defense would have to present its arguments and the rules for entering evidence.

18:46
A federal judge ruled Friday that a Texas woman charged for her role in the US Capitol insurrection on 6 January can travel to Mexico later this month, according to CNN.
Jenny Cudd, a florist who was charged with two misdemeanors after breaking into the capitol building raised eyebrows when she petitioned the court to allow her to attend a 4-day retreat in Riviera Maya, Mexico, which was planned before her 6 January actions.
But DC district court judge Trevor N McFadden found little issue with the request, writing that Cudd has "no criminal history and there is no evidence before the court suggesting the defendant is a flight risk or poses a danger to others".
Prosecutors did not dispute the ruling.
Cudd has not expressed regret for taking part in the riot that resulted in five fatalities.
CNN reports:



"F— yes, I am proud of my actions, I f—ing charged the Capitol today with patriots today. Hell, yes, I am proud of my actions," Cudd said in the Facebook video, according to court records.
She also told local news reporters she would "absolutely do it again".
Updated


18:25
A hearing has been scheduled to decide whether Kyle Rittenhouse — the 18-year-old accused of shooting three people and killing two during police brutality protests in Kenosha, Wisconsin, last summer – should be rearrested or have his bond increased $200,000 after he neglected to inform authorities of a change in address.
The Associated Press reports that prosecutors allege Rittenhouse violated the terms of the pre-trial release he was granted after he posted a $2m cash bond last November, when he moved out of the home he shared with his mother. The teen's attorneys argue he transferred to an "undisclosed safe house" after receiving threats.
Prosecutors also said Rittenhouse, who pleaded not guilty to murder and weapons charges in January, was also spotted last month at a bar in Wisconsin sporting a shirt that read "Free as Fuck" while he posed for photos with members of the far-right and self-described male western chauvinist group the Proud Boys, and flashed white power hand signs.
Updated


17:49
When Trump was booted from Twitter and Facebook for spreading disinformation about election fraud that never occurred, many people expected him to join his supporters on Parler, a platform with less moderation that's catered to the far-right, hate groups, and conspiracy theorists. A new report from BuzzFeed News details why the former president may never have showed up:
Former Trump campaign manager Brad Parscale said Trump was never directly involved in the discussions, but sources told BuzzFeed News that the Trump Organization was offered a 40% stake in the company. In exchange, the former president would have to use Parler exclusively, posting all content there at least 4 hours before he shared it elsewhere.
The deal, which was never finalized but was discussed while Trump was still in office, may land him in more legal hot water.



Kathleen Clark, a law professor at the Washington University in St Louis, said that, had the deal gone through while Trump was still in office, both Parler and the president could have been in violation of anti-bribery laws. Because the former president often used his Twitter and Facebook accounts to make official communications – for example, announcing the firings of government officials – seeking to gain something in exchange for making posts exclusive to another platform could be illegal.


"I think it would have actually violated the bribery statute in that he would have been offered something of value – a stake in this company – in exchange for influencing an official act – the act of where to publish his official comments," Clark said.
Updated


17:31
Hello! Gabrielle Canon checking in here on the west coast to take you through the news this Friday evening.
First up:
Americans are divided over the impeachment of former president Donald Trump, the Associated Press reports, with less than half surveyed in a newly released poll responding that Trump should be convicted by the Senate in next week's impeachment trail, for his role in the 6 January Capitol insurrection.
Unsurprisingly, the poll found divisions along party lines. More than 80% of Democrats supported the conviction while roughly 10% of Republicans did. Still, nearly two-thirds of respondents said they think Trump is at least partly responsible.



It's the latest sign that Trump's months-long disinformation campaign could have long-lasting ramifications for Biden as he tries to govern a fractured country and underscores the deep partisan divides that will outlast Trump's presidency. But it also shows some degree of consensus, with even many Republicans saying that Trump was at least partially responsible for his supporters' deadly storming of the Capitol on Jan. 6 in a bid to overturn the results of the November election.
Updated


17:00
Today so far
That's it from me today. My west coast colleague, Gabrielle Canon, will take over the blog for the next few hours.
Here's where the day stands so far:
The US economy added just 49,000 jobs last month, according to the latest jobs report. The unemployment rate dipped slightly to 6.3%, underscoring the slow rate of the US economic recovery as the coronavirus pandemic continues.
The House passed the Senate-approved budget resolution, paving the way for Congress to advance Joe Biden's coronavirus relief package without Republican support. In a speech today, Biden indicated he wanted to move forward with the package even if it did not have bipartisan support. "That's my preference to work together," the president said. "But they're just not willing to go as far as I think we have to go."
The defense department will send more than 1,000 active-duty troops to assist vaccine distribution. The White House coronavirus response team announced that the troops will be sent to the new mass vaccination sites in California next week.
Marjorie Taylor Greene appeared unrepentant a day after being removed from her House committee assignments over her racist and extremist views. Speaking at a press conference today, Greene also addressed the relationship between Donald Trump and Republicans now that the former president has left office. "The party is his – it doesn't belong to anyone else," Greene said.
A video obtained by ABC News showed Roger Stone interacting with members of a far-right militia group on January 6. Hours before the violent insurrection at the Capitol, Stone can be seen flanked by members of the Oath Keepers militia. Stone, a longtime confidant to Trump, received a pardon from the former president in December.
Gabrielle will have more coming up, so stay tuned.

16:44
Two House Republicans, Louie Gohmert of Texas and Andrew Clyde of Georgia, have been fined $5,000 each for ignoring the metal detectors set up outside the House chamber, according to CNN.
The metal detectors were installed outside the House chamber after the January 6 insurrection at the Capitol, which resulted in five deaths.
But some Republicans have refused to comply with the requirement that members walk through the metal detectors before accessing the floor.
Some members have kept walking after setting off the metal detectors, while others have ignored the detectors entirely.
On Wednesday, the House passed a rule calling for members to be fined for not complying with the metal detectors. Members will be fined $5,000 for their first offense and $10,000 for their second offense, and the money will be taken directly out of their salaries.
"It is beyond comprehension why any Member would refuse to adhere to these simple, commonsense steps to keep this body safe," House speaker Nancy Pelosi said after the rule was passed.
"It is sad that we have been forced to move forward with a rule change imposing fines on those who refuse to abide by these protections, but the People's House must and will be safe, so that we can honor our responsibility to do the People's work."

16:21
House speaker Nancy Pelosi has released a video marking that it has been one month since the January 6 insurrection at the Capitol.
"The insurrectionist attack on January 6 was not only an attack on the Capitol but was a traumatic assault targeting all of our congressional community," Pelosi said in the video.
"In the aftermath of that horrible day, our nation has been inspired by the strength and resilience shown by all who work in these hallowed halls," the Democratic speaker added. "But the trauma of that day remains real, and the heartbreak and the horror that we all feel cannot be ignored."
Pelosi recounted how her staffers barricaded themselves in a conference room to protect themselves from the violent mob on January 6, as the speaker sheltered in place with other lawmakers at an undisclosed location.
The speaker pledged that she would continue working to ensure that "justice and accountability prevail" as Congress continues to examine the events leading up to the insurrection.
During her weekly press conference yesterday, a reporter asked Pelosi how she responded to arguments that Democrats should drop their efforts to convict Donald Trump, after the former president was impeached for incitement of insurrection in connection to the Capitol attack.
"Ask our Founders, 'Why bother?'" Pelosi replied. "Ask those who wrote the Constitution, ask Abraham Lincoln, ask anyone who cares about our democracy why we are bothering. You cannot go forward until you have justice."

16:01
Pete Buttigieg went to Washington's Union Station this morning for his first official event since being sworn in as transportation secretary on Wednesday.
The new cabinet secretary thanked the frontline transit workers for their service amid the coronavirus pandemic.
Buttigieg emphasized the importance of Joe Biden's executive order calling on Americans to wear masks whenever they are traveling on public transit.
"[Transit agencies] are being asked to work miracles with the resources they are given in the best of times, and now have faced the enormous challenge of sharp drops in farebox revenue," Buttigieg said. "We'll build back better than before."