20:25
Today so far
That's it for me tonight! Thank you all for reading along. To recap, here's what we covered:
The feds arrested Thomas Sibick for his role in the 6 January attack on officer Mike Fanone during the riot at the US Capitol.
New York senators Chuck Schumer and Kirsten Gillibrand joined in to call for Andrew Cuomo to step down, after several women accused him of sexual harassment and misconduct.
Republican state lawmakers are crying foul over a last-minute add to the Covid relief bill that bars them from cutting taxes after they take federal funds.
New polls show that vaccine confidence is strong across demographics – but that people of color still struggle to get equal access.
Hundreds of migrant children detained in Texas are being held in a crowded facility without access to beds, regular showers, or the ability to contact their families. Read this for more:
Updated


19:53
Hundreds of immigrant children and teens, detained by border patrol in Texas, have been forced to sleep on the floor in dangerously crowded conditions, without access to regular showers or essential hygiene products such as soap and shampoo, according to the Associated Press.
Nonprofit lawyers who interviewed more than a dozen children this week in Donna, Texas, found that many had been detained for weeks and had not been allowed to contact their parents or relatives. The lawyers, who were denied entry by the Biden administration, were not able view conditions inside the tent facility where more than 1,000 people are being held.
"It is pretty surprising that the administration talks about the importance of transparency and then won't let the attorneys for children set eyes on where they're staying," lawyer Leecia Welch of the National Center for Youth Law, told the AP. "I find that very disappointing."

The number of unaccompanied children crossing into the US is rising, and thousands have been apprehended since the start of 2021. Roughly 3,000 children are currently in detention, according to government data obtained by the AP, with the numbers only increasing.
Last month, the Biden administration opened the first migrant child facility in order to house 700 teenagers between the ages of 13 and 17, a move that sparked outcry from immigration lawyers and advocates who hoped for change when Trump left office.
"It's unnecessary, it's costly, and it goes absolutely against everything [President] Biden promised he was going to do," said Linda Brandmiller, a San Antonio-based immigration lawyer who represents unaccompanied minors told the Washington Post in February. "It's a step backward, is what it is. It's a huge step backward."
For more on what the new administration is doing to address the surge in child migrants, read this story from the Guardian's Amanda Holpuch:
Updated


19:28

Lauren Aratani
Earlier today, New York Magazine published an account from Jessica Bakeman, a former New York statehouse reporter, described an incident in 2014 between herself and New York governor Andrew Cuomo at a holiday party for the press taking place at the governor's mansion.
Bakeman describes how she went up to Cuomo to thank him for inviting her and to offer her best wishes for the recovery of his father, Mario Cuomo, who was dying at the time. She describes how Cuomo grabbed her, one hand around her waist, holding her in place as they were taking pictures. Bakeman said she tried to squirm away, but the governor continued to hold her in place.
Here's more from the piece:



He turned to me with a mischievous smile on his face, in front of all of my colleagues, and said: "I'm sorry. Am I making you uncomfortable? I thought we were going steady."

I stood there in stunned silence, shocked and humiliated. But, of course, that was the point.

I never thought the governor wanted to have sex with me. It wasn't about sex. It was about power. He wanted me to know that I was powerless, that I was small and weak, that I did not deserve what relative power I had: a platform to hold him accountable for his words and actions. He wanted me to know that he could take my dignity away at any moment with an inappropriate comment or a hand on my waist.

19:24
Confidence in Covid-19 vaccines is growing in the US, but equal access issues have taken a toll, CBS news reports.
The results of a new Edelman Trust Barometer poll, released today, show close to 60% were eager to get their shot, compared to 33% asked the same question at the beginning of the year.
Meanwhile, more than 40% of Black and Latino respondents said that they they had struggled to get an appointment even though they were eligible for the vaccine.
"This whole idea that African Americans and Hispanics have deep hesitancy because of fear, it's not so," the CEO Richard Edelman told CBS. "They don't have access."
A separate survey, done by NPR/PBS NewsHour/Marist, had similar findings. NPR reports that 73% of Black people and 70% of white people said they planned to or had gotten the vaccine.
From NPR:



The findings come amid concerns in some states over who is getting vaccinated and who is not, with data in some states suggesting stark racial disparities. The pandemic has had an outsized impact on people of color, especially Black Americans".
Updated


19:02
Senate Democrats snuck a last-minute amendment into the $1.9tn covid relief bill signed by Joe Biden this week, to ensure cash-strapped states receiving the federal funds couldn't turn around and cut taxes, the New York Times reports.
Roughly $220bn will be distributed to states to cover costs associated with Covid, or to fund essential governmental services, but state leaders will now be unable to subsidize tax cuts through 2024.
Democrats, including Senators Joe Manchin and Ron Wyden, argued that the amendment was an essential guardrail to ensure the intentions behind the relief package were acted upon by the states that received help from the federal government.
Republican legislators, however, see the move as an overstep. Some state leaders are now pushing for that part of the bill to be repealed.
From the NYT:



"It is an intrusion into what would traditionally be a state prerogative of how we balance our budget," said Ben Watkins, the director of the Florida Division of Bond Finance. "If they want to give us this money to deal with Covid, then they should just give it to us with no strings attached."

Funding for state and local governments was one of the most contentious issues during stimulus talks, with Republicans saying Democrat-led states were being rewarded for mismanaging their finances and labeling the aid as a "blue-state bailout."
Updated


18:38
With mounting pressure on the New York governor Andrew Cuomo to resign, the New York Times has taken a closer look at the lieutenant governor Kathy Hochul, who would take over if he relinquishes his seat – and become the first woman to serve as governor in the state.
She's won two statewide elections with Cuomo, who chose her as his running mate in 2014, and that experience could be essential. As the Times reports, along with navigating New York's vaccination program and a difficult economy recovery from the Covid crisis, there are also a "series of urgent legislative deliberations and responsibilities" coming up quickly on the agenda.
Cuomo has rebuked the sexual harassment and misconduct accusations as well as the growing number of calls for his resignation from New York lawmakers and Democratic party leaders.
The Assembly has taken some initial steps toward an impeachment inquiry, but, as the Times reports, a removal from office is still a long way off. From the Times:



If Mr. Cuomo is removed or resigns, Ms. Hochul would become the governor. She would also serve as acting governor during an impeachment trial.

Ms. Hochul, for her part, has said little about the accusations against Mr. Cuomo other than that she supported the independent investigation underway into the claims of sexual harassment".
Updated


18:22
Stimulus checks are officially on their way! The treasury department said some will see the funds arrive in their bank accounts by direct deposit this weekend, and people are already sharing that the money has been deposited.
The payments, which can also come by mail as checks or debit cards, are expected to be sent out over the next several weeks, according to the treasury department and Internal Revenue Service officials. Folks can begin checking the status of their stimulus by Monday on the IRS website.

They are expected to be doled out a lot faster than they were last year, the New York Times reports, because the first round of checks were delayed for a redesign – all so they could feature Donald Trump's name on the memo line. This time around the memo will simply read, "economic impact payment".
Click below for more about who qualifies for the $1,400 checks and other details on the Covid relief bill:
Updated


17:53
Schumer, Gillibrand urge New York Governor Andrew Cuomo to resign
In a joint statement released today, Senate majority leader Chuck Schumer and Senator Kirsten Gillibrand broke their silence on the mounting number of sexual harassment allegations against New York Governor Andrew Cuomo, urging him to resign.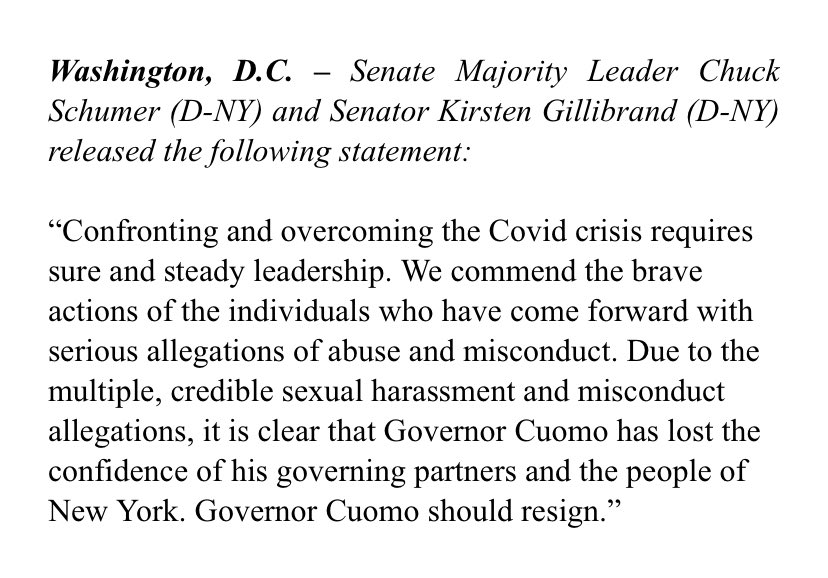 Commending his work during the Covid crisis, the New York senators said it is "clear that governor Cuomo has lost the confidence of his governing partners and the people of New York," due to the "serious allegations of abuse and misconduct.
They join a chorus of Democratic legislators from the state who have called for Cuomo to step down. More than a dozen Democratic House members, including representatives Jerrold Nadler and Alexandria Ocasio-Cortez, released a joint statement Friday morning.
Cuomo, a third-term Democrat who was praised for his leadership early in the pandemic, pushed back on the charges and the requests for his removal, resolutely committing to staying in office.
"Women have a right to come forward and be heard, and I encourage that fully, but I also want to be clear that there is still a question of the truth. I did not do what has been alleged," he said.
Updated


17:40
Earlier this week, defense secretary Lloyd Austin approved a request from the US Capitol Police to have 2,300 members of the National Guard stay in Washington DC for security purposes following the insurrection at the US Capitol. An anonymous defense official recently told CNN that Austin rejected a recommendation from the US Army that the Capitol would need just half that number. The Pentagon says that the US Capitol Police successfully made an argument that they were not well-equipped to handle ongoing security concerns.
The National Guard was scheduled to leave DC completely today, but the Pentagon's move to keep members at the Capitol means that only about 2,500 members will be leaving. The defense department said that keeping the National Guard at the Capitol will cost an additional $111m, making the total cost of securing the Capitol from January through May $521m.
Along with the scaling back of National Guard members, some of the fencing and razor wire around the Capitol is scheduled to come down this weekend, according to a Fox News reporter.

17:26
Hello everyone! Gabrielle Canon here, to take you through the rest of Friday's news.
First up – HuffPost is reporting that the FBI has made its first arrest for the assault of Mike Fanone, a DC metropolitan police officer who was tasered and dragged by rioters trying to gain entry into the Capitol during the 6 January attack.
Thomas Sibick, of Buffalo, New York, was allegedly caught on Fanone's body camera ripping the officer's badge from his vest and taking his radio. Sibick, who buried the badge in his yard when returned home, now faces five charges, including obstruction of law enforcement during civil disorder, assaulting or impeding officers, and taking a thing of value by force or intimidation.
From Huffpost:



FBI agents first interviewed Sibick on Jan. 27, and he acknowledged being in D.C. on the day of the Capitol insurrection. He told agents that he heard someone say to "get [Fanone's] gun and kill him," but claimed that he was trying to help the officer. In early February, Sibick once again denied taking part in the assault. But by late February, he said he needed to "recant" his prior statement, and admitted to grabbing the officer's badge and radio. He said he dropped them in a trashcan in D.C., but later called up an agent and claimed he "wanted to do the right thing."

Sibick, the FBI affidavit states, said he "had buried the badge in his backyard," purchased a metal detector to find it, dug it up, and wanted to return it.
Updated


17:03
Afternoon summary
It's been an eventful day so far in US political news and our colleague Gabrielle Canon will take the blog on now from the west coast. Here are some of the highlights of Friday.
The US surpassed 100m administered doses of the Covid-19 vaccine earlier today, according to data from the Centers for Disease Control and Prevention (CDC).
Joe Biden, Kamala Harris and top Congressional leaders thanked Democratic members of Congress in the White House Rose Garden earlier for passing the $1.9tn American Rescue Plan, which the president called "transformational".
The city of Minneapolis reached a record $27m settlement with George Floyd's family. Floyd died during an arrest attempt last May by now-ex police officer Derek Chauvin, who is on trial for murder in the city right now.
New York governor Andrew Cuomo again refused to resign and said of accusations of sexual misconduct or harassment: "I did not do what has been alleged."

16:47
Reaction is coming in from the record settlement between the city of Minneapolis and the family of George Floyd.
Correspondent Amudalat Ajasa sends this from an interview in Minnesota moments ago:
"That dollar amount shows that what happened to George Floyd was wrong. It goes to show that we matter but it's an opportunity to show that these types of injustices are wrong. It was a clear violation of George Floyd's civil rights. It shouldn't have happened," said Todd Gramenz of Black Lives Matter St Paul.
Black Lives Matter Saint Paul was established in 2014 after Michael Brown was killed in Ferguson. They have been organizing protests and lobbying since then.
Gramenz added that you cannot really put a dollar value on a life. "How do you value a Black man, who's innocent, that's killed?" he said, and called for more police who kill to stand trial.
Meanwhile, only one Minnesota police officer has been convicted of murder before, a Black officer who killed a white women, yet several hundred Minnesotans have suffered police-involved deaths in the last 20 years.
A seventh juror was just seated in the trial of former Minneapolis cop Derek Chauvin, a white man, charged with murdering Floyd, who was Black.
This is a great dispatch from Ajasa last weekend #ICYMI:
Updated


16:10
US surpasses 100m administered Covid-19 vaccine doses
The US surpassed 100m administered doses of the Covid-19 vaccine on Friday, according to data from the Centers for Disease Control and Prevention (CDC). Nearly 20% of the US population has received one dose while 10% of the population is fully vaccinated.
About 2.3 million Americans are being vaccinated a day on average. The CDC reports that over 133m doses of the vaccine have been delivered.
During a public address, Joe Biden said yesterday that he plans on having every American adult eligible for the vaccine by 1 May with the goal of achieving a semblance of normal life by Independence Day on 4 July. The administration said it will increase the number of places where people can get vaccines to help get their shots at a faster pace.
Updated


15:47
People are scoffing at a part of New York governor's Andrew Cuomo's defense against the sexual assault and harassment allegations he faces that he delivered during a press call earlier today.
Cuomo, when rebuking the Democratic lawmakers who have called for him to resign, said that "part of this is that I am not part of the political club. And you know what? I'm proud of it."
People on Twitter pointed out that Cuomo is the son of a former New York governor and ex-husband of Kerry Kennedy, the daughter of the late Robert F. Kennedy.
In an op-ed for the Washington Post with the headline "If Andrew Cuomo isn't 'part of the political club' then Mickey Mouse isn't part of Disney", Philip Bump pointed out that "for 23 of the last 50 years, the governor of New York has had the last name Cuomo."

15:23
During the White House's press briefing earlier this afternoon, press secretary Jen Psaki was asked about Biden's primetime speech on Thursday night, in which he condemned "vicious hate crimes" against Asian Americans during the Covid-19 pandemic.
"Many in the Asian American community still live in fear, are still being threatened, are still being attacked," Psaki said. "He felt the need to make clear that was not acceptable."
Psaki was asked whether the president believes Donald Trump had stoked prejudices. Psaki said it was no secret that Biden believes the sentiment was fueled by the "provoking of hate speech by his predecessor".

14:50
Biden lauds $1.9tn Covid relief bill as 'transformational'
Joe Biden, Kamala Harris and top Congressional leaders are thanking Democratic members of Congress in the Rose Garden right now for passing the $1.9tn American Rescue Plan.
"I promised the American people… that help is on the way," Biden said. "Today, with the American Rescue Plan now signed into law, we delivered on that promise."
"It's historical and they call it transformational, and it really is."
Biden outlined the way the bill will impact Americans, starting with the $1,400 stimulus checks that Americans will start receiving this weekend.
"Think of the millions of people going to sleep at night staring at the ceiling thinking 'My God, what am I going to do tomorrow? I lost my healthcare, I don't have a job, unemployment's run out, I'm behind on my mortgage. What am I going to do?" Biden said. "They're going to be getting that check soon."
He said that the bill will create 7m new jobs and will "change the paradigm".
"The theory was cut taxes and those at the top and the benefits they get will trickle down to everyone," Biden said. We've seen time and time again that that trickle down does not work."
"This bill puts working people first."
Speaking before Biden, vice president Kamala Harris emphasized that the bill's passage means that help is on the way.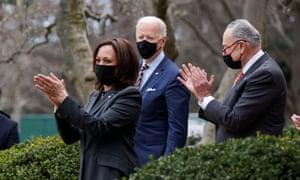 "[Americans] will feel the impact of this bill for generations to come," Harris said. "Help has arrived, America."
Senate majority leader Chuck Schumer said that the bill "is the most significant piece of legislation in so many ways… and we are just getting started."
House speaker Nancy Pelosi said "promise made, promise fulfilled", citing Biden's promise to deliver aid during his presidential campaign.
Updated


14:31
Biden to speak in Rose Garden at White House to celebrate $1.9tn bill
Joe Biden is about to speak at the White House in an event to celebrate the passing of the American Rescue Plan $1.9tr coronavirus relief bill this week and his signing of that legislation yesterday in the Oval Office.
This will be the president's first such event, in the Rose Garden, but expect face masks and other precautions, against spreading the virus the bill is designed to combat.
Unlike the super-spreader event Donald Trump held in the Rose Garden last fall to introduce his supreme court nominee Amy Coney Barrett.
A flurry of coronavirus infections rippled from that event, where few wore masks and people mixed closed together outdoors and indoors.
Updated


14:28
Attorney Ben Crump, representing the family of George Floyd, just said the $27 million settlement by Minneapolis is "the largest pre-trial settlement in a civil rights wrongful death case in U.S. history."