19:51
Summary
Here's a recap of today, from me and Jessica Glenza:
During the first Covid-19 briefing with Biden administration experts, officials said the US coronavirus death toll would hit 500,000 by February. With new, dangerous variants circulating, they emphasized the importance of surveillance and noted that the Covid-19 relief proposal could boost funding for genomic sequencing.
Joe Biden signed a flurry of executive orders meant to address the climate crisis, by focusing on creating good-paying jobs in renewable energy. "We must do this, we can do this, we will do this," Biden said. Among the orders, Biden said he would pause and review all oil and gas drilling on federal lands, instruct federal agencies to switch the government's massive fleet of cars over to electric vehicles and instruct federal agencies to end subsidies for fossil fuel companies (he needs Congress to complete that last item).
Three nominees for cabinet secretary posts faced Senate committee hearings today. They included energy secretary nominee Jennifer Granholm, nominee for representative to the United Nations Linda Greenfield-Thomas, and veteran's affair secretary nominee Denis McDonough. Meanwhile, Senate leader Chuck Schumer has filed a cloture on Alejandro Mayorkas's nomination for secretary of Homeland Security. The procedural step puts a time limit on debate over the nomination, which is meeting GOP resistance.
Democratic senator Tim Kaine told reporters he is considering a resolution to formally censure Donald Trump. It is an acknowledgment that the impeachment trial is unlikely to result in a conviction."Having alternatives on the table is important," Kaine told CNN.

19:14
Vivian Ho
The San Francisco school board has voted to remove the names of George Washington, Abraham Lincoln, Dianne Feinstein and a number of other politicians, conquistadors and historical figures from public schools after officials deemed them unworthy of the honor.
After months of debate and national attention, the board voted 6-1 Tuesday in favor of renaming 44 San Francisco schools with new names with no connection to slavery, oppression, racism or similar criteria.
School board members have insisted that the renaming is timely and important, given the country's reckoning with a racist past. They have argued the district is capable of pursuing multiple priorities at the same time, responding to critics who say more pressing issues deserve attention.
Families in some schools have argued for a name change for years. James Denman middle school, for example, was named after the first superintendent and a racist leader who denied Chinese students a public education.
Others have complained that some current names mean students are wearing school sweatshirts with the names of slave owners, including Washington, Thomas Jefferson and James Madison. "It's a message to our families, our students and our community," said the board member Mark Sanchez. "It's not just symbolic. It's a moral message."
But critics have called the renaming process slapdash, with little to no input from historians and a lack of information on the basis for each recommendation. In one instance, the committee didn't know whether Roosevelt middle school was named after Theodore or Franklin Delano.
"I support some of the schools being renamed, but there are a lot of schools that do not need to be renamed," said one Lowell high school sophomore in public comment.
"There is a lot of historical negligence that happened because they do not have a historian on the advisory committee. On the Google sheet of the renaming committee they cite Wikipedia as a source. As a high school student at Lowell, I'm not even allowed to use Wikipedia as a source for my history papers, let alone to spend millions of dollars to rename a school that may not even need to be renamed."
Read more:

18:51
Democratic senator Tim Kaine told reporters he is considering a resolution to formally censure Donald Trump, in an acknowledgment that the impeachment trial is unlikely to result in a conviction.
"Having alternatives on the table is important," Kaine told CNN. "There has to be accountability for the actions of January 6 including accountability for the President who fomented this violent attack on the Capitol."
Axios earlier reported that Republican senator Susan Collins of Maine has joined with Kaine in pitching colleagues on a censure.
To secure a conviction, Democrats in the senate would have to convince 17 Republicans to vote with all of them. That seems extremely unlikely – only 5 Republican senators voted with Democrats to hear the impeachment trial. The remaining 45 Republicans voted against trying the case against Trump.

18:16

Martin Pengelly
The Missouri Republican senator Josh Hawley has claimed he "never" intended to help Donald Trump overturn the presidential election, and called allegations that he helped incite the deadly riot at the US Capitol on 6 January a "lie".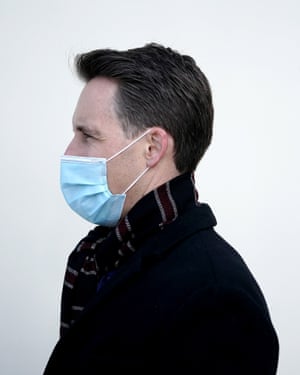 Hawley was speaking to NewsRadio 1120 KMOX in St Louis.
His claim not to have been seeking to overturn the election contradict his words in an interview with Fox News on 4 January, two days before the Capitol attack.
Then, Hawley was asked if he was "trying to say that as of 20 January [inauguration day] that President Trump will be president?"
"Well," he said, "that depends on what happens on Wednesday. I mean, this is why we have to debate."
In that interview, Hawley was defending his decision to become the first Republican senator to say he would object to electoral college results, while Trump continued to baselessly claim that Joe Biden had stolen the presidential election via massive electoral fraud – claims that were repeatedly thrown out of court.
The Democratic candidate won more than 7m more votes nationally and took the electoral college by 306-232, a result Trump called a landslide when it was in his favour over Hillary Clinton in 2016.
Other Republicans followed Hawley in saying they would object when Congress gathered to certify results on 6 January. That day, Trump addressed a rally outside the White House, repeating his baseless claims of fraud and telling supporters to march on the Capitol and "fight like hell" in his cause.
Hawley was photographed raising his fist to Trump supporters outside Congress. A mob broke in, ransacking offices, fighting with law enforcement and in some instances allegedly looking for lawmakers to kidnap and kill. Five people died, one a police officer hit with a fire extinguisher.
When Congress gathered again that night, the Capitol become a crime scene, Hawley, Senator Ted Cruz of Texas and 145 other Republicans went through with their promised formal objections to electoral college results.
Hawley objected to the result in Pennsylvania. Had that state flipped, it would not have been enough to keep Trump in the White House. No results were overturned. Two weeks later, Biden was sworn in as the 46th president.
Trump was impeached a second time, for inciting an insurrection against the US government. On Tuesday, Hawley was one of 45 Republican senators who voted against even holding a trial.
Amid fallout from the Capitol attack, Hawley has been rebuked by mentors and lost donors and (briefly) a book deal. He faces calls for censure or expulsion from the Senate, and has been moved to deny widespread speculation he will run for the Republican presidential nomination in 2024.
On Wednesday, KMOX host Mark Reardon told him: "Senator, you more than anyone else, and this is what just personally disappoints me, you knew that there was no constitutional path for that election to be overturned once the electors are certified [by the states] and there was a fair amount of people including me that feel that you led people to believe that that option still existed."
Reardon said he understood Hawley's claim to have been concerned about "election integrity and … potential concerns of fraud", but said: "That didn't seem to be what the tone was between certainly when the electors were certified and 6 January."
"I never said that the goal was to overturn the election," Hawley insisted. "That was never the point and that was never possible."
Later, Reardon said: "You're just gonna have to answer the question. There seems to be a disagreement. So there are some people that feel like you lead them down the path that would lead some Trump supporters to … interpret some of the things you were doing as the feeling that he was still going to be sworn into office."
Hawley answered: "That's just a lie. That is a lie told by the leftwing mob that now wants to silence me and Ted Cruz and 140 House members and 13 senators and anybody who would dare stand up to them. Anyone who is a Trump supporter who refuses to bow the knee. And I'm just not gonna be silenced. It is a lie that I was trying to overturn an election … It is a lie that I incited violence."
Hawley's claim that the left is trying to intimidate and silence him was familiar: he made it after protesters police called "peaceful" held a vigil outside his Washington-area home, and repeated it last Sunday in a front page column for the New York Post, a mass-market tabloid owned by Rupert Murdoch.
Such claims, similar to many made by rightwingers claiming to have been silenced by mainstream and social media, met with widespread ridicule.

17:50
Senate leader Chuck Schumer has filed a cloture on Alejandro Mayorkas's nomination for secretary of Homeland Security.
The procedural step puts a time limit on debate over the nomination. Schumer made the move after Republicans including Ron Johnson of Wisconsin, James Lankford of Oaklahoma and Josh Hawley of Missouri pushed back against Mayorkas' nomination.
The Senate can take an initial vote on Mayorkas on Friday, after which senators could debate the nomination for 30 more hours.
"The Senate must continue the process of confirming President Biden's Cabinet by installing Alejandro Mayorkas to serve as secretary of Homeland Security," Schumer said.' Unfortunately, because of the objections of one member, the Senate has not been allowed to vote on this nomination yet."
Hawley had said he would hold up a vote on Mayorkas.
Other Biden cabinet members, including Secretary of State Antony Blinken and Treasury Secretary Janet Yellen, have sailed through without facing any procedural hurdles.

17:23
Milwaukee was already failing students of color. Covid made it worse.
In a city where 55% of children live in poverty, teachers are struggling to fill in for services students have lost while schools are closed, Mario Koran reports:
School closures have been disruptive for students across the United States but, for many students of color in Milwaukee's public school system, the immediate impacts have been downright alarming.
In the long run, educators fear, Covid and a long history of segregation and discrimination have formed a toxic cocktail that could reverberate for decades to come.
"It's not only a question of how we get these kids back to where they would have been had the pandemic not occurred, but how do we get them back to where they should be?" said Dan Rossmiller of the Wisconsin Association of School Boards.
"And that, of course, was the pre-existing problem."
Virtual instruction has been the norm in Milwaukee public schools since March, when schoolhouse doors were first forced to close because of Covid. And in few places are the concerns about its impacts more acute than on Milwaukee's north side, a majority-Black area in one of the most segregated cities in the nation. In the neighborhoods surrounding Martin Luther King Jr elementary, a school on the city's near-north side, 55% of children live in poverty – nearly four times the state average for children in poverty.
Angela Harris, a 41-year-old teacher at the school, recalled the distress among students when she told them in the spring they wouldn't be returning to the classroom.
She remembers rushing to the stockpile of snacks she kept in the classroom for hungry students and how she had loaded them into children's backpacks so they'd have something to eat if food at home was scarce. She recalls one student in particular, wearing a green and black jacket donated by a local NBA star, and the way his face tightened in devastation at the news he might not see his teacher again.
"I can just visualize his face, in that coat, in that moment, asking me, 'Mrs Harris, but what do I do if mommy is mean to me again?' And me not knowing how to help him," Harris said.
In the following weeks, as the school district scrambled to distribute Chromebooks and cobble together a plan for the remainder of the school year, Harris spent afternoons hand-delivering packets of homework print-outs to the doorsteps of the 20 students in her class.
"I knew they needed the reassurance of seeing me, and I needed the reassurance, too. For some of them, the only time I could make sure they were OK was when they were with me," she said.
With more than 92% of the schools' students qualifying for subsidized lunch, Harris also put out a call for donations of food and toiletries and organized a roster of people willing to help deliver meals to families, securing 500 volunteers on the first day. By Harris's count, the mutual aid group has delivered more than 1,000 hot meals to families in 10 different zip codes across the city.
Teaching, Harris said, last year looked more like social work, hunting for missing students and social workers to fill in the wraparound services schools provided. "Educators have always been rushing in to fill in these services. But this is a pretty tattered safety net," said Amy Mizialko, president of Milwaukee's teachers union.
Read more:

16:58
A very busy day one week into a new administration…
Exactly one week into the Biden-Harris administration, the new administration had another day of rapid-fire briefings, executive order signings and cabinet confirmation hearings in a bid to underscore what it says is the urgency of the moment.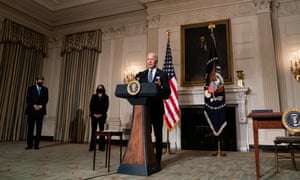 On Covid-19…
The Biden administration held the first of what it said would be regular, formal Covid-19 briefings led by experts on the subject – including Dr Anthony Fauci – not the president. The new style is a sharp contrast with the free-wheeling and factually challenged briefings of the Trump era.
CDC director Dr Rochelle Walinsky struck a hopeful tone early in the briefing, but was clear that many thousands more people would die in America because of the ongoing pandemic, likely totalling 500,000 deaths by February.
In that briefing, administration officials said they were working to increase vaccine manufacturing and distribution, and give states clarity on forthcoming allotments.
They also highlighted concerning Covid-19 variants, specifically B117 which is believed to be more transmissible, as another reason the administration wants Congress to pass a Covid-19 relief bill. The stimulus would provide more funding to surveil for variants using genomic sequencing.
In another healthcare measure, the president said his administration would also reopen Obamacare health insurance exchanges to people who lost employer-sponsored health insurance during the pandemic. A plurality of Americans get health insurance through an employer.
On the climate crisis…
Joe Biden signed a flurry of executive orders meant to address the climate crisis, by focusing on creating good-paying jobs in renewable energy. "We must do this, we can do this, we will do this," Biden said.
Among the orders, Biden said he would pause and review all oil and gas drilling on federal lands, instruct federal agencies to switch the government's massive fleet of cars over to electric vehicles, and instruct federal agencies to end subsidies for fossil fuel companies (he needs Congress to complete that last item).
In spite of the focus on jobs in the president's plan, Republican legislators called the plan "pie-in-the-sky" government mandates which would hurt jobs.
Just a contextual note here: oil and gas companies have overwhelmingly donated to Republicans in recent years. Here's a chart.
On cabinet secretaries…
Three nominees for cabinet secretary posts faced Senate committee hearings today, including energy secretary nominee Jennifer Granholm, nominee for representative to the United Nations Linda Greenfield-Thomas, and veteran's affair secretary nominee Denis McDonough.
Now, I'll pass the blog over to my esteemed colleague Maanvi Singh.
Updated


16:44
A Virginia state senator has just been censured for her praise of the Capitol rioters on 6 January.
As a reminder of the violence of the Capitol riot, five people were killed, and many police officers injured. Here are examples of those injuries.

16:31

Julian Borger
The election of Joe Biden could be a step towards a "safer and saner world" but the planet remains dangerously close to nuclear and climate change catastrophe, at "100 seconds to midnight" according to a panel of top scientists.
The Bulletin of the Atomic Scientists announced that the hands of its "Doomsday Clock", a measure of the "world's vulnerability to catastrophe", had not moved since last year.
"The pandemic revealed just how unprepared and unwilling countries and the international system are to handle global emergencies properly," the Bulletin, co-founded in 1945 by Albert Einstein, said in a statement.
It added that the worsening spread of disinformation and conspiracy theories was acting as a multiplier to the worsening threats of nuclear conflict and the climate emergency. The statement did not mention Donald Trump by name, but pointed to the 6 January storming of the US Capitol, which was incited by the former president, saying it renewed "legitimate concerns about national leaders who have sole control of the use of nuclear weapons".
"In 2020, online lying literally killed," it added.
The statement welcomed Biden's first steps as president, rejoining the Paris climate accord and extending the New Start arms control agreement with Russia for five years.
"The election of a US president who acknowledges climate change as a profound threat and supports international cooperation and science-based policy puts the world on a better footing to address global problems," the Bulletin said.
"In the context of a post-pandemic return to relative stability, more such demonstrations of renewed interest in and respect for science and multilateral cooperation could create the basis for a safer and saner world."

16:10

Martin Pengelly
In further Marjorie Taylor Greene news, footage has resurfaced today of the Republican representative from Georgia harassing David Hogg, a Parkland school shooting survivor who campaigns for gun control reform, on a Washington street.
The video was posted to Greene's YouTube channel on 21 January 2020.
Taylor Greene, who as yet has faced no action from Republican House leadership for words and actions including appearing to advocate the execution of Nancy Pelosi, Barack Obama and Hillary Clinton – see post from 3.02pm and story below – has claimed the Parkland shooting was staged.
Seventeen people died and 17 were wounded at Marjory Stoneman Douglas High School in Parkland, Florida on 14 February 2018. Hogg rose to prominence as survivors mounted a national movement for meaningful gun reform.
On Twitter on Wednesday, Hogg wrote: "It's so frustrating that we have people like Greene in Congress that would rather spread conspiracies about mass shootings than confront the reality people are dying every day from gun violence."

15:51
In addition to the back-to-back events this morning, multiple nominees for Biden's cabinet are also facing scrutiny from Senate committees.
While Joe Biden signed executive orders meant to tackle the climate crisis, his nominee for energy secretary, Jennifer Granholm, was grilled by Congressional Republicans, according to the AP.



The last Democratic administration went on a regulatory rampage to slow or stop energy production," said Wyoming Senator John Barrasso, a leading Republican on the Senate Energy and Natural Resources Committee. "I'm not going to sit idly by .. if the Biden administration enforces policies that threaten Wyoming's economy."
Granholm, as the governor of Michigan during the 2008 recession, said she knew what it was like to "look in the eyes of men and women who have lost their jobs through no fault of their own."
She promoted emerging clean energy technologies, such as battery manufacturing, as an answer for jobs that will be lost as the U.S. transitions away from fossil fuels.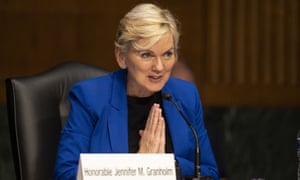 Meanwhile, Linda Thomas-Greenfield is nominated to be the US Representative to the United Nations. Thomas-Greenfield was the nation's senior-most black diplomat when she was abruptly fired by Donald Trump.
In her hearing before the The Senate committee on foreign relations, she called China "a strategic adversary" that threatens the world. She also expressed that she praised China's initiatives in Africa in a 2019 speech, but made no mention of its human rights abuses.



It was not my intention, nor do I think that I cheered on the Chinese Communist Party," Thomas-Greenfield said, in response to question from Senator Ted Cruz. "I do regret that speech – one speech in a 35-year career…

"I am not naive about what the Chinese are doing. I have called them out," she stressed.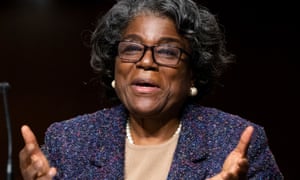 Thomas-Greenfield was also questioned about a host of other issues, including the 2015 nuclear deal between Iran and major powers, which former President Donald Trump pulled out of in 2018. After the US then ramped up sanctions, Iran gradually and publicly abandoned the deal's limits on its nuclear development.
Meanwhile, the Senate committee on veteran's affairs held a hearing to consider Denis McDonough to be Secretary of Veterans Affairs this afternoon.
Updated


15:24
The Department of Homeland Security issued a rare warning to Americans today, that the nation could see increased threats from domestic terrorism in the coming weeks.
Although the agency did not site a specific, credible threat, it said"ideologically motivated violent extremists" may commit violent acts in the coming weeks.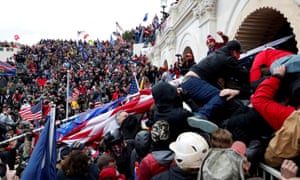 Here's more from Reuters:



The US could face a heightened threat of domestic extremist violence for weeks from people angry at Donald Trump's election defeat and inspired by the deadly storming of the US Capitol, the Department of Homeland Security warned on Wednesday.

The advisory, which said there was no specific and credible threat at this time, comes as Washington remains on high alert after hundreds of Trump supporters charged into the Capitol on 6 January, as Congress was formally certifying President Joe Biden's election victory. Five died in the violence.

"Information suggests that some ideologically motivated violent extremists with objections to the exercise of governmental authority and the presidential transition, as well as other perceived grievances fueled by false narratives, could continue to mobilize to incite or commit violence," the department said in a national terrorism advisory.

Biden's inauguration last week occurred under heavy security, with more than 20,000 National Guard troops on duty. Officials have said about 5,000 troops will remain in Washington for the next few weeks, when Trump will face his second impeachment trial in the Senate on a charge of inciting insurrection.

Trump spent two months peddling the false narrative that his defeat in November's presidential election was the result of widespread voter fraud. He urged a crowd of thousands of his followers to "fight" in a fiery speech before the 6 January violence.

The DHS advisory said domestic violent extremists were motivated by issues including anger over COVID-19 restrictions, the 2020 election results, and police use of force.

It also cited "long-standing racial and ethnic tension – including opposition to immigration" as drivers of domestic violence attacks. White supremacist groups have posed "the most persistent and lethal threat" of violent extremism in the United States in recent years, Trump's acting Homeland Security Secretary Chad Wolf told a congressional hearing in September.

DHS warned that the attack on the Capitol could inspire domestic extremists to attack other elected officials or government buildings. DHS typically issues only one or two advisory bulletins in a year. The bulletins have mostly warned of threats from foreign terrorist groups.

The last one, issued by the Trump administration in January 2020, declared Iran a state sponsor of terrorism and designated Iran's Revolutionary Guard Corps as a foreign terrorist organization.

Biden last week directed his administration to conduct a full assessment of the risk of domestic terrorism. The assessment will be carried out by the Office of the Director of National Intelligence in coordination with the FBI and DHS, White House spokeswoman Jen Psaki told reporters.

"The January 6th assault on the Capitol and the tragic deaths and destruction that occurred underscored what we have long known: the rise of domestic violent extremism is a serious and growing national security threat. The Biden administration will confront this threat with the necessary resources and resolve," Psaki said.
Updated


15:02

Martin Pengelly
Biden press secretary Jen Psaki was asked earlier if the White House had any response to comments on social media by Marjorie Taylor Greene, in which, before taking office, the Republican from Georgia indicated support for executing House speaker Nancy Pelosi, Barack Obama and Hillary Clinton.
Psaki was also asked if the White House thought disciplinary action should be taken. Republican leaders in the House of Representatives have shown little interest in doing so.
"We don't [have comment]," Psaki said. "And I'm not gonna speak further about her, I think, in this briefing room."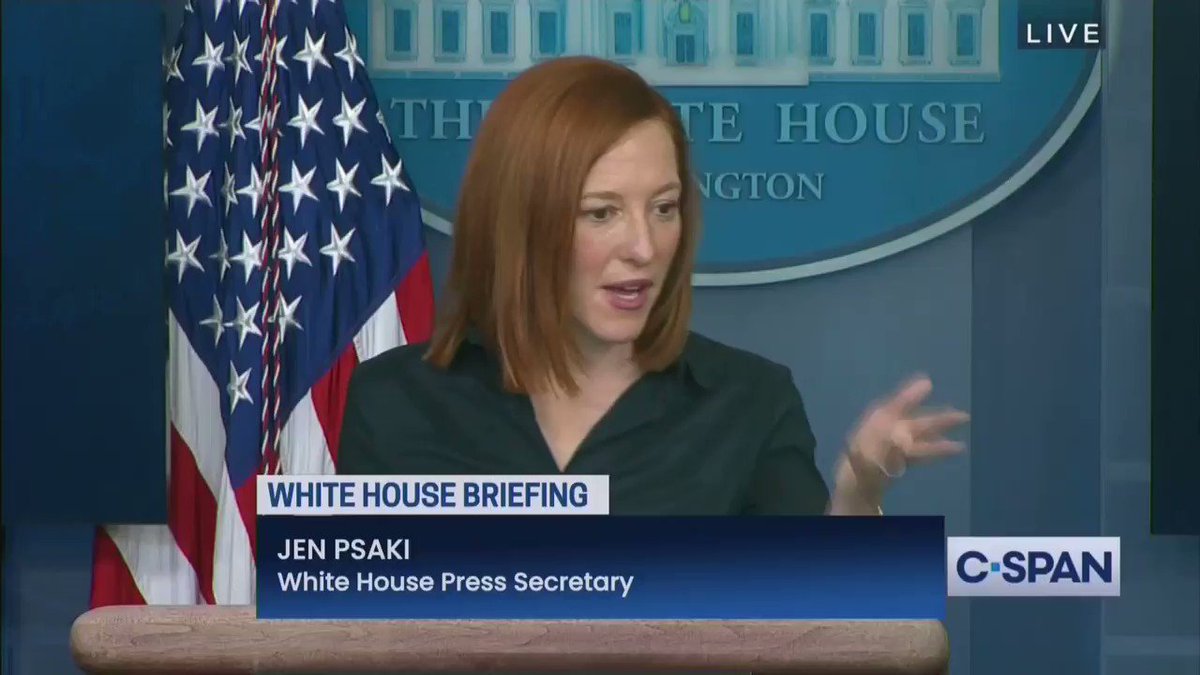 Earlier, Greene, who has expressed support for the QAnon conspiracy theory, called Rev Raphael Warnock, a new Democratic senator from Georgia, a "heretic". She also had a short Twitter exchange with Clinton.
Clinton said: "This woman should be on a watch list. Not in Congress."
Greene replied: "Actually, you should be in jail."
Here's the full story:

14:46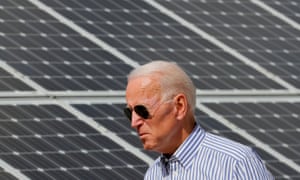 Even as Joe Biden's administration focused its climate crisis plan on jobs and the private sector, Republicans have criticized the plan as a "job killer".
Here's more from the Associated Press, on Biden's plans to use his executive orders to spur growth, and Republican's stalwart opposition:



[Biden's] orders are aimed at "revitalizing the US energy sector, conserving our natural resources and leveraging them to help drive our nation toward a clean energy future,'' the White House said in a statement before Biden signed the orders.

Still, Kerry and other other officials emphasized that the orders are also aimed at "creating well-paying jobs … and delivering justice for communities who have been subjected to environmental harm.''

Republicans immediately criticized the plan as a job killer.

"Pie-in-the-sky government mandates and directives that restrict our mining, oil, and gas industries adversely impact our energy security and independence,'' Rep. Cathy McMorris Rodgers of Washington state, the top Republican on the House Energy and Commerce Committee.

"At a time when millions are struggling due to the Covid-19 pandemic, the last thing Americans need is big government destroying jobs, while costing the economy billions of dollars,'' she said.

Biden also is elevating climate change to a national security priority. The conservation plan would set aside millions of acres for recreation, wildlife and climate efforts by 2030 as part of Biden's campaign pledge for a $2 trillion program to slow global warming.

Donald Trump, who ridiculed the science of climate change, withdrew the US from the Paris global climate accord, opened more public lands to coal, gas and oil production and weakened regulation on fossil fuel emissions. Experts say these emissions are heating the Earth's climate dangerously and worsening floods, droughts and other natural disasters.

Georgia Tech climate scientist Kim Cobb called the executive orders an "excellent start" for the week-old Biden administration.

"If this Day 7 momentum is representative of this administration's 4-year term, there is every reason to believe that we might achieve carbon neutrality sooner than 2050," even as key roadblocks lie ahead, Cobb said.
Updated


14:26
Here is a great breakdown of some of the climate related actions the Biden administration took today:
Instruct the US government to pause and review all oil and gas drilling on federal land
Called on federal agencies to eliminate fossil fuel subsidies
Instructed the federal government to transform the government's vast fleet of cars and trucks into electric vehicles
Here's some more context from my colleague Oliver Milman:



The directive opens up a path to the banning of all new drilling on federal land, a campaign promise made by Biden that has been widely praised by climate groups and caused outrage within the fossil fuel industry. Biden has called the climate crisis the "existential threat of our time" and the White House has said the new executive orders will help push the US towards a goal of net zero greenhouse gas emissions by 2050.

…

Biden's new set of executive orders, dubbed "climate day" by environmental campaigners, adds up to one of the most wide-ranging efforts ever taken by a US president to tackle the climate crisis, building upon his decision last week to re-enter the Paris climate agreement.
Updated